Robert Pattinson Time Magazine Interview
Robert Pattinson Opens Up to Time About Fans and Fame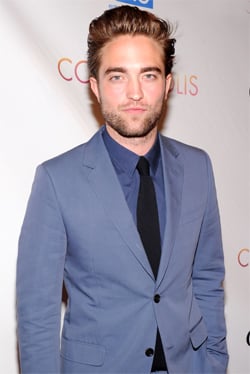 Robert Pattinson has done his best to tiptoe around answering personal questions this week, in light of Kristen Stewart's recent cheating scandal, but on Tuesday he sat down with his Cosmopolis director, David Cronenberg, and Time magazine to talk fans, fame, and his future. He downplayed his relationship status during "girl talk" with Jon Stewart, and during today's breakfast chat with GMA he focused on his upcoming movie. Tomorrow caps off his East Coast promotional tour before the film's Friday release, and from there it looks like Rob will begin prepping for Breaking Dawn Part 2's Fall international press tour. Here's more from Rob:
Rob on his fans: "I guess if people think they're worried about you, it's sweet. It's kind of odd. But at the same time, the world is a pretty cruel place, so whatever inspires people to suddenly feel this kindness, hopefully they'll look at themselves and they'll look at their own lives and realize, [awestruck, Eureka-moment voice] I have the ability to . . . to empathize with people!"
Rob on fame: "The world would be a much better place, I think, if all these bankers and billionaires were followed by paparazzi and studied as carefully. As soon as people look at something very closely, the whole thing just crumbles."
Rob on his next project: "I'm going to make this movie Mission: Blacklist about Eric Maddox, an Army interrogator who was one of the major people responsible for finding Saddam Hussein . . . The story is crazy, absolutely bizarre. It's a really cool director called Jean-Stéphane Sauvaire. We're going to shoot in Iraq next Summer. In January, I'm doing The Rover with David Michôd (who did the Australian movie Animal Kingdom), a futuristic Western with Guy Pearce."