Robin Thicke "Blurred Lines" Music Video
Why "Blurred Lines" Is Our New Summer Jam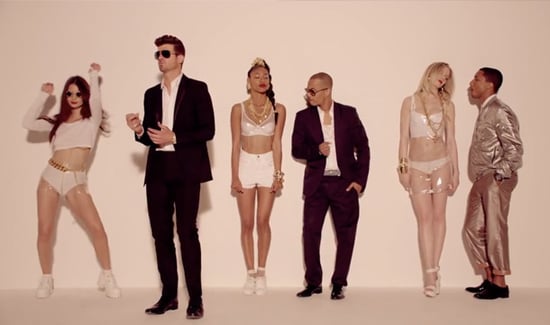 Robin Thicke's single "Blurred Lines" has just hit No. 1 on the Billboard chart, and we know why: it's the definition of a Summer jam. Not only does it get you excited for warm weather and outdoor festivities, but it's also a great song to listen to while you're getting ready to go out on the town. We've had it on repeat at home, in the office, and at parties — and it has quickly won our top spot for the best Summer jam so far. Here's why:
We Can't Get It Out of Our Heads
The beat is seriously catchy — you can't help but tap your feet, bob your head, and sing along to the sexy, playful lyrics. Pharrell Williams successfully sampled Marvin Gaye's classic "Got to Give It Up" on the track (as well as Michael Jackson's signature falsetto), and both Robin and T.I. lay it on thick with lots of flirty charm and commanding hooks. It's the perfect song for getting people off their feet at a backyard BBQ or poolside party, and it just begs to be blasted while riding in the car with the windows down.
See the other reasons why we're loving "Blurred Lines" (and watch the entertaining music video) when you keep reading.
The Video Is Bananas
Robin, Pharrell, and T.I. are dressed to the nines while carousing with hot girls in plastic outfits and platform shoes. In between showing off their fancy footwork, they drink cocktails and eat ice cream cones as the hashtags #THICKE and #BLURREDLINES flash across the screen — and somewhere in there are sausage links, a baby goat, and Robin getting slapped in the face with a foot. It's sexy, silly, and generally hilarious — and has already (appropriately) been spoofed on Jimmy Kimmel Live! and by the boys of The Lonely Island.
It Puts Us in a Good Mood!
Like "Call Me Maybe" and "Party Rock Anthem" before it, this song just makes you smile (and shake it). The funky groove is reminiscent of Pharrell's N.E.R.D. heyday and has us excited to hear what else Robin's upcoming album will have to offer.
Tell us: will you be making "Blurred Lines" your new Summer jam?