Rupert Grint Has Recovered From Swine Flu, Will Attend Harry Potter and the Half-Blood Prince Premiere On Tuesday
Rupert Grint Recently Recovered From Swine Flu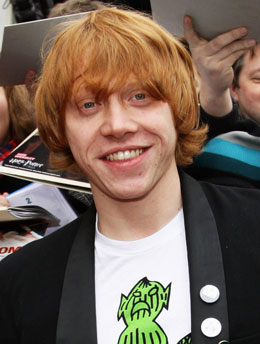 Rupert Grint's publicist has revealed that he has recovered from Swine Flu, after he had to take a week off from filming Harry Potter and the Deathly Hallows.
It was only a mild case of the illness, and he'll be able to attend the world premiere of Harry Potter and the Half-Blood Prince in London on Tuesday alongside Daniel Radcliffe and Emma Watson. The movie is released on July 15, and his spokesman said:
"It has just been confirmed that Rupert Grint has taken a few days out of filming due to a mild case of swine flu. He has now recovered and is looking forward to joining his fellow cast members at the premieres this week and will then return to filming directly afterwards. A spokesman for Rupert's doctor has confirmed that Rupert is no longer contagious or at risk of infecting others. Other scenes were shot which did not require his involvement and thus filming was not disrupted."
Chief Medical Officer, Sir Liam Donaldson, has stated that there may be more than 100,000 more cases of swine flu every day by the time September begins. Over 7,400 cases have been confirmed thus far, and four people in the UK have sadly died of the illness. We're glad you're feeling better, Rupert!