Rupert Grint Interview on Harry Potter and the Deathly Hallows Part 2
Harry Potter's Rupert Grint Shares His Red-Headed Role Models
Rupert Grint has been busy over the last few weeks doing press for the final Harry Potter film ahead of its release Friday. He spent the weekend at the junket for Harry Potter and the Deathly Hallows Part 2, which came just before Monday's NYC premiere of Harry Potter. So far, the Harry Potter and the Deathly Hallows Part 2 reviews look great. Rupert spoke about the experience of making the final film, and also revealed some fun personal information like who his red-haired role models are and just why he bought an ice cream truck. Rupert said: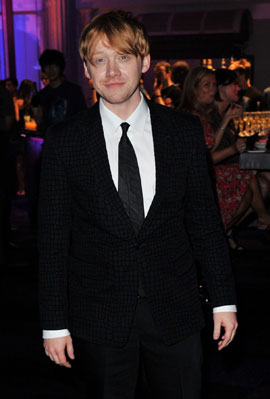 On his favorite red-headed role model: "I get a lot of kind of people from the ginger community shake my hand. I've always been a proud ginger. I don't know about in America but in England it's not the coolest thing really having ginger hair, get quite an unfair hassle. It's nice Ron is quite a respected ginger guy and Prince Harry as well is pretty cool."
On getting any secrets on Ron's back story from J.K. Rowling: "Not really. Whenever J.K. Rowling came to the set and we were kind of chatting, we rarely ever spoke about the books or the stories, just kind of general chat, but I remember she did tell fill us in on the epilogue, kind of where the characters go, what they do for a living, I think she had kind of written the rest of their lives really, so that was quite interesting to hear what we all became. I think Ron, I worked in the Ministry doing something and I forget what everyone else was doing. . . it was cool."
On the scene in which he kisses Emma Watson: "It was a tricky one to do, I think. I've known Emma so long we mutually both were dreading this scene, slightly. It was a moment that was not in the book obviously, sort of something [producers] David [Yates] and Steve [Kloves] came up with. Yeah, it was a challenge to make it believable, the romance of it, cause like you said it's been built up for so many years now and we wanted people to think we actually wanted to kiss each other 'cause in reality we really didn't. Yeah, it was fine. It was a nice moment and, hopefully, people believe it."
On how many takes it took to get the kissing scene down: "We did about four takes. I find it hard to recall, remember anything about it, it's kind of been erased from my mind. Yeah, we had a laugh about it, it was fine."
To read more about Rupert's buying an ice cream van, getting recognized by fans, and what he has in common with Ron, just read more.
On buying an ice cream truck: "The ice cream truck was something I've always wanted. It was kind of a childhood dream. That's what I wanted to be, an ice cream man. So as soon as I passed my driving test I bought an ice cream van."
On his feelings at the end: "I did get a little bit choked up at the end. There's this one scene where it's the three of us after the battle and were walking on the bridge and the castle is destroyed behind us and it's almost kind of a parallel moment with our lives really, it's over for us as well. It's quite sad and I'm gonna really miss it."
On getting recognized: "Took me a while to kind of adjust to it. I was always kind of a shy kid and then came this sudden attention. Never being invisible completely, it's something you kind of take for granted I think. I remember it was in a shopping center near where I live, it was like a school, and the film had just come out. It was really weird. I enjoyed it. It was quite cool really. It's something I've never really quite hid from. It's just apart of it. It's a bit strange."
On wearing aging makeup in the epilogue: "First attempt, my character particularly was quite terrifying. The image still haunts me. I looked like a kind of monster really, a Donald Trump mixture, it was really weird, no hair, I was obese. I think it was a bit too much. I think they found the balance in the final version. It was a very strange thing to film really. Sitting in a makeup chair watching yourself gradually age. It was quite terrifying."
On how he's similar to Ron: "I have always felt this quite close connection to Ron even before the films. After ten years playing the same guy kind of everyday I think you do kind of naturally morph into them. We've become this kind of Ron-pert thing, which I think will stay with me for a while. I think they'll always be a bit of Ron in me for the rest of my life."