Russell Brand Tells All About Life With Katy Perry And Their Wedding, Katy Perry Launches "Purr" Perfume In Selfridges
Russell Brand Kisses Loose Women While Katy Perry Prepares For Purr-fume Launch
Russell Brand was at the ITV studios to film Loose Women yesterday, wearing a big comfy cardigan as he chatted on his phone outside. He gave Carol McGiffin a kiss on the lips, and then sat down and discussed his wedding and life after it. Katy Perry performed at the Victoria's Secret fashion show earlier this week, and she was wearing a gorgeous purple dress to attend the launch of her new perfume "Purr" at Selfridges today. Here's what Russell had to say about his life with Katy: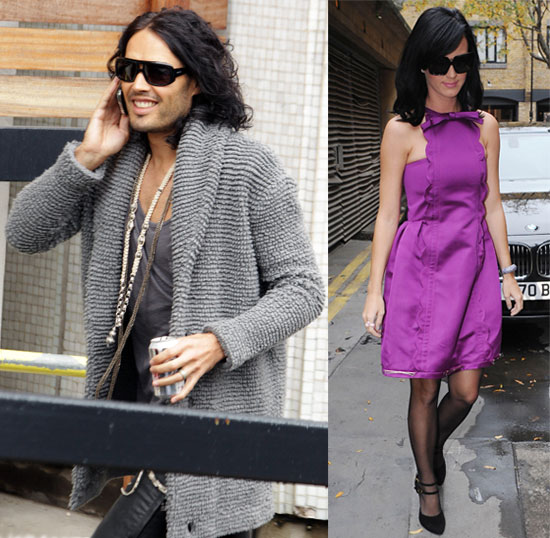 On being in love: "Eventually, I think you find a spiritual and emotional connection with someone, and I think it unifies you with everyone else. I think if you love one person, it makes you love everyone. That's how I feel now."
On being under the thumb: "'The other day, I put a shirt on and she went, 'You're not wearing that shirt are you?' I thought, that's actually happening? That's a thing off a sitcom. That happened in my actual life. I wasn't allowed to wear it. If she says don't wear that shirt, I don't wear it."
On his wedding to Katy: "We did a special dance. Everyone gets all worked up about showbiz and celebrity, but other than the bit where you're on the telly or you're singing a song, it's normal. It's just a normal marriage."
To see more pics of Russell and Katy and read more of what Russell said, just read more.
On where he lives now: "I feel unsettled, I'm like a wandering nomad."
On rumours he gave Katy a tiger: "I'm a vegetarian, you don't give people tigers, it's stupid, it's dangerous, and the tigers don't like it. The only place I want to see a tiger is on a packet of Frosties, nowhere else."