Ryan Reynolds and Jimmy Fallon Water War | Video
Hottest Water Fight Ever? Ryan Reynolds vs. Jimmy Fallon!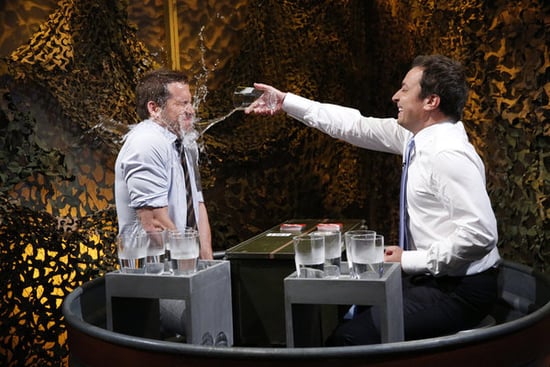 Ryan Reynolds and Jimmy Fallon got involved in a bit of a wet-shirt contest on last night's Late Night With Jimmy Fallon. Ryan was there to promote R.I.P.D. and was game to play Jimmy's famous "Water War" — and we are certainly not complaining! Ryan has been making the rounds for his movie, which hits theaters today. His costar Marisa Miller talked about Ryan's "razor-sharp wit" and his chemistry on and off screen with Jeff Bridges when she stopped by POPSUGAR Live! yesterday.
So, what do you think: is this the hottest splash fight ever? Then again, Jimmy did play water war with Robert Pattinson, too.
To see the video, just read more.