Scarlett Johansson, Eric Bana and Natalie Portman Discuss Their Roles In The Other Boleyn Girl
We Meet The Stars Of The Other Boleyn Girl
Last week I had the amazing opportunity to meet Scarlett Johansson, Natalie Portman and Eric Bana when I attended a screening event for The Other Boleyn Girl, just before the stars attended the Royal Premiere. Here's an excerpt of the Q+A regarding their roles in the upcoming film (out March 7th) where Eric reveals he wanted to play Natalie's part of Anne Boleyn! Be sure to keep checking back to PopSugarUK for the rest of their answers...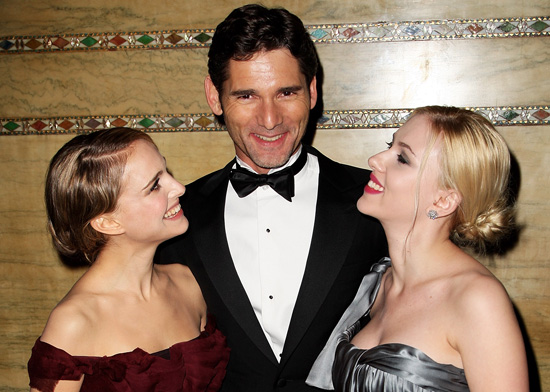 To set the scene, Scarlett was quite quiet and wore a bright green cardigan with stand-out red/orange lipstick, an often-laughing Natalie wore more natural make-up and an elegant slate-grey jewelled top, and Eric (pre-shaven head) sat mischievously between them.
Scarlett you play Mary Boleyn, and Natalie, you're Anne – you both have incredibly rich roles in this film, was there any discussion about swapping the roles?
SJ - No, because when I had signed on to the project, or even when I was approached with the project, Natalie was attached to play Anne. I have been a fan of Natalie's for a long time – you know, I just saw the role of Anne as being Natalie – that's how I read it – so I never even thought about it. But like you said, they're both very complex characters and it would have been a challenge to play either role.
So you were locked in already Natalie, but the role of Mary is still very complex and attractive to an actress, isn't it?
NP – Yes, it's so rare to find a script with one role as complex as either one of these, and to have two roles in the same film, both for women, and of the same age is completely unheard of. So it was really exciting. I wanted to play Anne because it was so different anything I'd done before and it was just an amazing opportunity to get to work with Scarlett who I'd admired since we were kids.
To find out Eric's thoughts on playing Henry VIII, and to hear lots more from Scarlett and Natalie read more
Eric, Henry VIII has been portrayed a lot on the big screen, and the small screen, so did you look at other portrayals or did you try and come to it as fresh as possible?
EB – Well, originally when I read the script I wanted to play Anne, but Natalie of course was already attached! (laughter) No, I thought it would be too dangerous [to watch others playing Henry], I had friends sending me emails saying 'I heard you were playing Henry VIII, you've gotta see this guy's portrayal, and this guy's portrayal' and I deliberately steered clear of that. I think it's restricting enough as it is, playing a real person, but to then be constricted by someone else's interpretation is kind of crippling I think. So I steered clear of it completely, I look forward to seeing others now.
Did the etiquette coach help you in your portrayals? And was there anything during your research of your characters that surprised you?
SJ – I think it was helpful just to have the etiquette supervisor on the set. Things like how should I carry my hands, how deeply shall I curtsy, would I nod towards the servant or handmaiden, how close would our relationships be, how long would we have known each other... That kind of thing was interesting to find out, helpful, and added to the freshness and the authenticity of the period. As far as my research, I mean I tried to find anything, but aside from land ownership and husbandry or whatever – things that were factual – it was impossible for me to find any kind of record of… (Eric's laughing) What's so funny?

EB (chuckling) – Land ownership, I love that! (he does an impression of Scarlett opening a book) 'I need something very relevant to my character – Land. Ownership.' (Laughter from all)

SJ (trying to get back on track) – Well, you know, what I'm trying to say…

EB – No… I'm in support of you….

SJ – Yeah, as usual… What I'm trying to say is that I only had the book [Philippa Gregory's novel] as reference because I couldn't find anything, other than that Mary had one, if not two, children by Henry VIII. And that was really it.
Natalie, we know a lot more about Anne. But did you also learn a lot about etiquette of the time?
NP – Yes definitely, especially in terms of bodily contact, of what's appropriate with your Father, or with your sister, or with your lover, in public, in private – all those kinds of things are really helpful – to have someone who knows all those details you can't glean from books. Obviously there's so much information on Anne, and I think the big surprise was probably [being] continuously reminded how biased history is. It's always someone's version or some sort of fiction. You can see people's agendas behind their depictions of Anne – whether they had some sort of feminist agenda, or wanted to depict her as some witch who put some sort of spell on their beloved King – and their version helped them understand something in their own lives. I think it's nice that we present our film so clearly as a fiction – it's so clearly an imagination of the events even though the timeline is relatively accurate.
No etiquette for you Eric, you could do as you like as Henry VIII I suppose?
EB – No, that was for everybody else to follow I guess. It's always great doing these sort of movies, you learn a lot about the stuff you weren't paying attention to in school, and that's always really interesting.
What a lovely triplet of stars! Coming up in our next installments - Scarlett discusses her new album and next acting role, Natalie talks about the role of women in society and Eric heaps praise on the film's first-time director Justin Chadwick, and I'll also give you my thoughts on the film.