Sean Bean Arrested On Suspicion Of Domestic Assault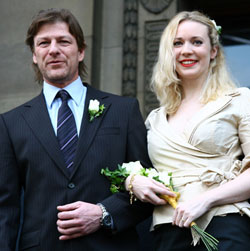 Sean Bean reportedly spent six hours in custody following his arrest on suspicion of domestic assault, after his wife Georgina apparently called the police during a row on Thursday night.
Georgina, who became Sean's fourth wife in February, allegedly claimed her husband grabbed and assaulted her, but has now dropped the assault claim. Police told Sean no further action would be taken.
Georgina told The Sun:
"Everything is OK. Sean and I are at home together enjoying the sunshine. He was arrested. Everything was blown out of proportion. The police held him quite a while, but Sean is fine and I'm fine. There's no problem between us".
Sean simply said: "I'm fine".
To find out more about the incident read more
A source told The Sun:
"There were no punches or kicking and nothing really nasty. It was pushing and shoving, but she clearly felt threatened.

"He was arrested and taken to the nearest custody suite at Holborn. He denied being a wife batterer and said it was a domestic row that got out of hand.

"He was released on bail and Mrs Bean later called up to say she was no longer prepared to continue the case.

"There was no other evidence to prove assault and there was no option but to drop it."