Simon Cowell Leaving American Idol for US Version of The X Factor, What Does It Mean for Britain's Got Talent and UK X Factor?
Simon Cowell Leaves American Idol for US X Factor, But What Does That Mean For His UK Shows?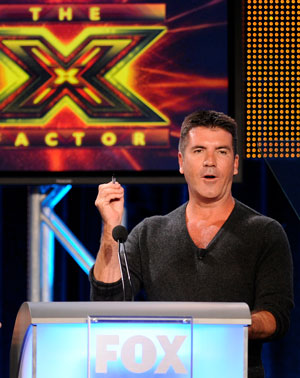 Simon Cowell announced yesterday that he will be leaving American Idol after this series to bring a US version of The X Factor to American TV screens that will air in 2011.
Although he is the face of American Idol, the executive producer of the show is Simon Fuller, whereas Cowell will executive produce and judge on the new US version of The X Factor. But where does that leave the UK version of the show, and Britain's Got Talent? We all love watching Simon Cowell on both of these!
He's said to be keen to continue on both shows in the UK, although it may mean that ITV have to reschedule them. The US version of The X Factor is set to air in the autumn on Fox, while the UK version usually fills the autumn schedule for ITV. One option that the UK channel are looking at is to move the show to the spring, which would remove the Christmas number one battle from the end of the series too.
Never fear, though, it's unlikely to go ahead without Simon — ITV have said:
"We are absolutely planning for The X Factor to return this autumn and next year with Simon Cowell in both an on-screen and production role."