Simon Cowell Quotes About American Idol vs The X Factor
Simon Cowell Talks X Factor Judge Rumors, Idol Judges, and Why His New Show Will Be More "Fun" Than Idol
Simon Cowell is gearing up to take over the world of reality TV yet again this Fall when he brings The X Factor to the States — amid rumors that he's dropping out of the UK version. Auditions have already kicked off in LA — and booths around the country for contestants who can't make it to big cities —with New Jersey coming up this week. Simon says the stateside series will be more "fun" than American Idol; although, he admits that he hasn't been keeping up with the Idol drama. Simon isn't ready to announce who will be joining him and L.A. Ried at the judges' table, but everyone from Jessica Simpson to Fergie to Gloria Estefan are apparently still in the running. He says he'd happily hire any of them and discussed the qualities that make for good hosts, contestants, and judges on these huge-scale talent shows. Check out our chat, and stay tuned for part two — when he describes why Justin Bieber is responsible for some of the best performers they've seen so far: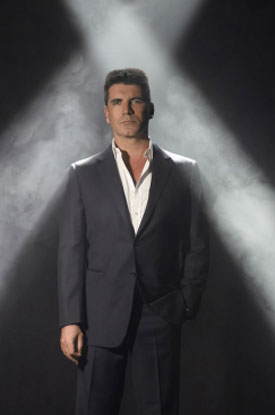 Buzz: How are auditions going for The X Factor?
Simon Cowell: By all accounts, really, really well, actually. Big numbers, lots of talent, coupled with a lot of crazy people, which I like. So all things that will make a good show, I hope.
Buzz: What are you looking for in a host?
SC: I think somebody who likes the fact they're making live TV, isn't afraid of things going wrong, isn't afraid to stick up for the contestants or argue with us, and who's fun to be with. And doesn't behave like a normal host.
There are lots of rumors going around about the judges. Is there anyone you would be particularly excited to get?
SC: Everyone who I've met, I've kind of wanted on the show, which is why it's difficult to make our minds up at the moment. I'd hire everyone. They really have been great fun, and every day we get approached by somebody new. It's really difficult when you're in that position to know who to hire. We just got to give it some time, meet everyone, and then try to come to a decision.
Buzz: Some fans are saying that the American Idol judges are all too nice this year, do you think there's anything to that?
SC: It's difficult. When I was on the show, everybody said we were too mean and now everyone's saying [the judges] are too nice. For me it's a good thing, because I was always concerned that the two shows were going to be similar, and they are very, very different shows. [The AI team] seems very happy with it, and hopefully people will like the difference in our show when it comes on. Because it really will be different.
To read more of what Simon had to say about what makes a good judge, and why The X Factor is more "fun" than Idol just read more.
Buzz: What makes a good judge on a competition show like this?
SC: You can't be a snob, and you can't be afraid to say no. You've kinda got to say what people at home are thinking. Otherwise we'd just end up putting music teachers on the show who would say "you're sharp or flat," and it would be the most boring show in the world. I like people who are slightly mad as well, because most of the people in the music business are crazy, so the panel has to reflect that. And you can't take yourself too seriously.
Buzz: Are there going to be big changes between the UK and US versions of The X Factor?
SC: A few. I mean you have to be very careful when you make a show like this. If you announce what you're going to do, other people copy you. So I like to keep things close to my chest when I can. Then when the show opens, it feels fresh, and no one has had the chance to do the same thing. Because that's what happens when you make these reality shows. All the other producers watch you, and you end up seeing your show on other shows. You've got to be really careful nowadays.
Buzz: You have said that you think The X Factor is going to be more "fun" than American Idol, what do you mean by that?
SC: Well it's got this massive age range for a start, so when you sit through the auditions — I've sat on both shows and auditions are boring — but when you can sit there and one minute you're watching a 14-year-old followed by somebody who's 75 followed by a group, it's a more interesting show to judge, and therefore I think it's a more interesting show to watch. It's difficult to describe until you see both shows, but it has a different feel to it. It's more unpredictable. The fact that you haven't got 12 contestants who are of a similar age range just makes it more fun.