Skins Series 2 Episode 1 Recap
Pop Watch: Skins, Episode 1 "Tony & Maxxie"
Skins series 2 started with a bang thanks to this Maxxie-centric episode. I really want to know what you all thought, so let's start.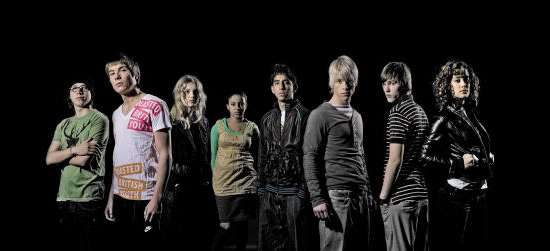 After the innovative closing of the last series, this second one started just as imaginatively. What did you think of the opening dance number? Were any of you fooled into thinking the church was holding Tony's funeral, or did you all read the spoilers? I have to say, I thought Maxxie's dance was brilliant. It was also fun to find out more about his family, and shade in his background a little more. Bill Bailey was a great casting choice as Maxxie's Dad – his dance with their pet dog had me grinning.
Tony's troubles were a little more sobering though, and the many effects that his injuries are having on him as well as his family and friends (especially Sid and Michelle) are sad. Maxxie is being a great friend to him though, and I thought the moment when Tony finally managed to write his name with Maxxie's help was brilliantly played. read more
Jal's moment of blossoming at the rave amused me, and reminded me of mine and my friends' sixth form days. Chris's reaction to her dancing was classic 'teenage boy', especially as earlier in the episode he'd ignored her saying she'd dressed up. Chris is so sweet though, I look forward to seeing more of him in this series, as well as lovely Cassie, who has disappeared up to Scotland. As for Anwar, he needs to drop that act immediately – with those massive gold chains and his jeans round his ankles, he's fooling no-one! Finally - who do you think is stalking Maxxie? If you know for sure, please don't spoil it for those who don't!
Here's the trailer for next week's ep, showing Monday on E4... looks like Shane Richie's up to no good in it.
Anyway, as I said, I want to hear what you all thought about episode 1 – so let me know in the comments!
(Photo courtesy of Channel4)