Skins: Series 2, Episode 4 "Michelle"
Pop Watch: Skins, Episode 4 "Michelle"
I eyed this week's episode warily as I'm not the biggest fan of Michelle. But I was, as always, willing to give any new episode of Skins a go. This week Michelle's Mum had moved on from romancing dirtily sexy Danny Dyer in the last season and is now married to his polar opposite. Back at Tony's house Michelle got all topless and Tony didn't live up to her expectations, so she's still messed up.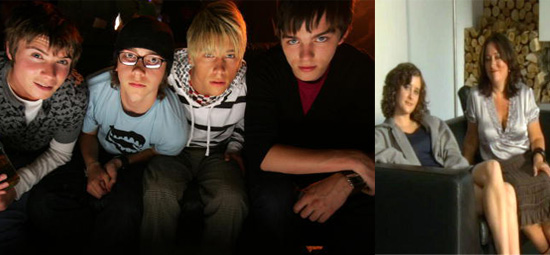 Michelle's exciting camping birthday trip was also coming up and now she has an annoying possible step-sister to deal with as well. Who the gang all love! Life's not easy, is it? Anyway, Michelle is now living in a technologically tripped out house, although to be fair I think the machines have taken over a little too far. I don't think I'd be comfortable there, especially when thinking about Michelle's window mishap.
Meanwhile Jal is with the boys, trying to cheer them up. Tony's having sex problems, Maxxie's worried about Anwar's weirdness, Sid's having Cassie troubles and is still mourning his Dad, and Chris... well... he's just happy looking at bubbles in his pint. Bless.
For more of my thoughts and to air your thoughts about the episode, just read more
Enter the annoying stepsister, Scarlett – spoiled, not so charming, and apparently a decade or two older than Michelle... I mean, she could have been 30 right? Then she got nude in the hot-tub. With her father. Cringe. The boys adored her, or her boobs anyway, even gorgeous Maxxie was distracted by them.
So off they all went in Scarlett's car to do a little camping and complete the obligatory 'lets all skinny dip' thing, that all TV / film teenagers (or Britney) seem to do when anywhere near the sea. Once a few items of clothing were back on and everyone bar the birthday girl was larking about on the beach, Sid did his caring bit by talking to Michelle about her and Tony.
I don't know whose idea it was to put Chris in charge of the tents etc, but that was always going to be fairly foolish. Still, losing them earned him a lot of pain from Jal. (I'm going to put something forward here, and it may be a little out of context with this recap, but I suggest that they keep Maxxie topless at all times. He's just rather nice to look at.) Anyway, this was the episode in which Sketch and Anwar's "relationship" was revealed. "Relationship" meaning she's sleeping with Anwar to get to Maxxie. Which is going to be fruitless, but then, she is insane. This did lead to my favourite freaky moment though - Sketch and Scarlett singing Daniel Bedingfield's "If You're Not The One" round the campfire with Chris exclaiming, "I love a bit of Bedingfield".
Eventually Scarlett's outrageous flirting with Sid pushed Michelle to realise she kind of liked him. But Sid and Michelle! No! Yes? What to think? And poor Cassie at the end. She really didn't deserve that.
So what did you think of the fourth episode of this series? I feel like so much happened, yet again. Phew!
(Photo courtesy of Channel 4.)