Solange Knowles in the Press Room at the 2017 Grammy Awards
Solange Knowles Explains Why She Looks Up to Icons Like Nina Simone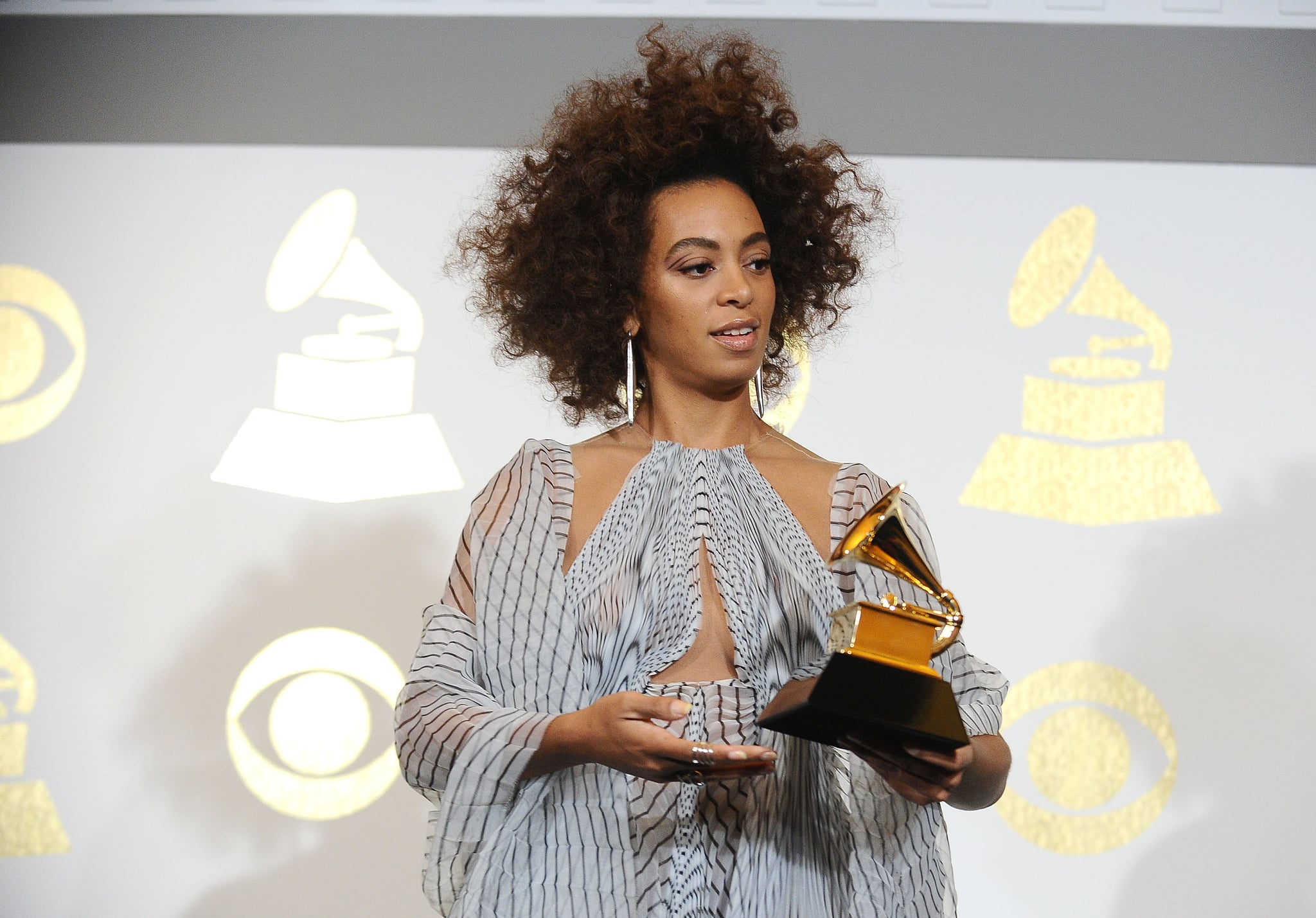 Sunday night's Grammy Awards served as a pretty significant benchmark for Solange Knowles. After slaying the red carpet, the music artist also joined the winners' list, earning a best R&B performance victory for "Cranes in the Sky." Backstage in the press room, Knowles spoke to the press about her win and the influential messages woven into her work. With deep-meaning songs like "Cranes in the Sky" and the notably symbolic "Don't Touch My Hair," it's clear her album A Seat at the Table is quite charged. As it turns out, Knowles draws this power and intention from icons of the past, most notably, Nina Simone.
"I look to Nina Simone and Marvin Gaye and the artists of our time that have really pushed political messages through, through their music and their artistry. I think that all we can do as artists, and especially as songwriters, is write about what's true to us. I think that the music that is out right now and really connecting and thriving reflects that. . . . It's not easy; it's scary putting yourself out on the line and making political and social statements with your words. So I just honour the greats, you know? I look to Nina Simone. . . . It's an interesting trajectory of her career; now she's being so celebrated and revered. She was really shut up during that time. She was really told to just sing. Those are the artists who paved the way for us."
Then there's the other kind of statement you can make as a musician in the industry. After her sister Beyoncé lost the album of the year award to Adele (much to the sadness of Adele herself), Solange tweeted out Frank Ocean's incendiary Tumblr post that asserts the Grammys are outdated and out of touch. "Wuddup, Frank," she wrote. Damn, girl.