Stars on the Red Carpet at Children's Champions Awards 2008
Jewel Tones Rule at Children's Champions Gala Ball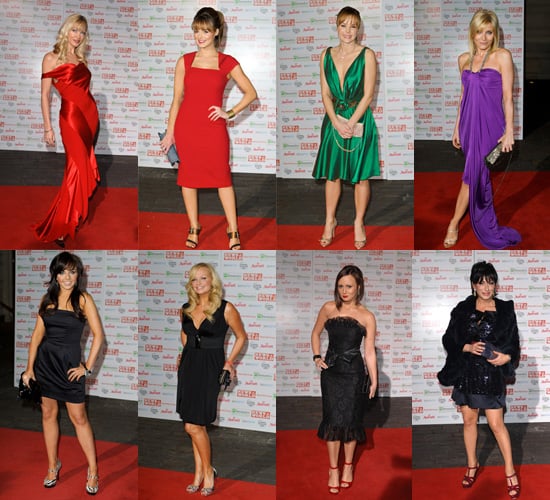 0
Jewel Tones Rule at Children's Champions Gala Ball
Dresses in jewel tones are certainly brightening up our storm-filled week — hot on the heels of Tuesday's TRIC Awards came the Children's Champions Gala Ball last night, with several stars stepping out in bold colours. There were ladies in red in the shape of Caprice and EastEnders' Kara Tointon (who wore a cute green and blue dress on Tuesday), while Amanda Holden went with a chest-revealing emerald outfit and Rock Rivals' Michelle Collins looked great in purple. There was a fine selection of LBDs on the red carpet too — I particularly liked Louisa Lytton's strapless number, and Emma Bunton looked like a yummy mummy in her simple black dress. The event, held at London's Renaissance Chancery Court Hotel, wasn't only attended by singers and soap stars, however — the Prime Minister himself was there! He said:
"There are so many unsung heroes in this country working tirelessly for young people, ensuring that the next generation grows up happy, healthy and safe from harm ... It will be my privilege to shake their hands."
I must admit I was surprised to see PM Gordon Brown in the same room as Big Brother 8's Victoria Beckham wannabe Chanelle Hayes — it's like seeing two separate worlds collide! But everyone was there for a great cause — to celebrate those who make a positive difference to children's lives. You can see the ceremony for yourself on Sky One on Sunday, as the event will be televised for the very first time.
We've got loads more pictures from the gala so just
Images include: Caprice, Kara Tointon, Amanda Holden, Michelle Collins, Louisa Lytton, Emma Bunton, Gordon Brown, Sarah Brown, Chanelle Hayes, Nancy dell'Olio, Ross Kemp, Fabio Cappelli, Brian Barwick, Roxanne Pallett, Wendy Richards, Barbara Windsor, Scott Mitchell, Alex Best, Liz Cundy, Nikki Sanderson, Adele Silva, Philip Glenister