TV This Weekend: Hole In The Wall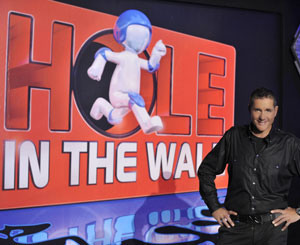 The Japanese invented it, the Americans have their own version, and now Hole In The Wall is coming to the BBC, hosted by Dale Winton.
You may have been forwarded clips of the Japanese Human Tetris — which has a much superior name in my opinion —but our UK version will be all celebrities, making up two teams headed by Anton Du Beke and Darren Gough.
The guests on Saturday night's episode include Andi Peters, Sherrie Hewson and Blue Peter presenter Zoe Salmon, and I have a couple of clips of the bizarre show for you to check out.
It looks like fairly fun hangover / on in the background while you're getting ready for a night out TV to me (the latter is good as it's on at 5.40pm on Sat), although I think I prefer the Japanese version at this stage! What do you think?
To see one more clip of the show, just read more.
.