Taylor Swift "Gorgeous" Lyrics
The 5 Most Telling References in Taylor Swift's "Gorgeous," From Calvin Harris to Her Cats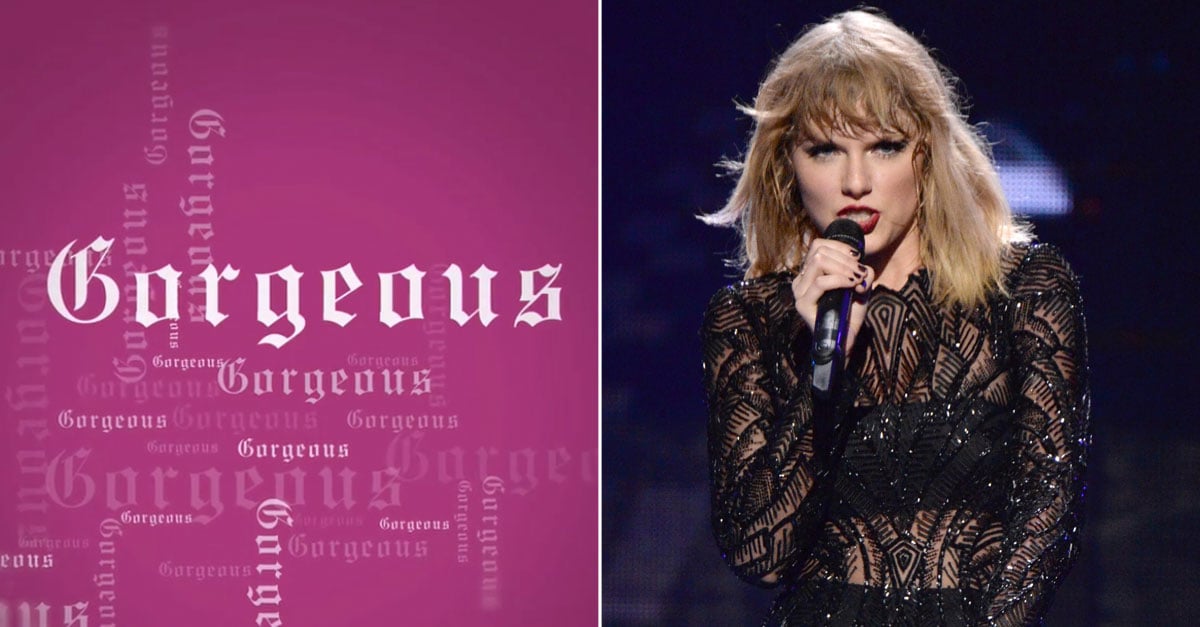 Within minutes of Taylor Swift releasing her latest song, "Gorgeous," fans were already speculating about the story behind the single. The lyrics are flirty, and in the first verse, she mentions having an older boyfriend who's "in the club doing I don't know what." That definitely sounds like it's a nod to her DJ ex, Calvin Harris, right? Another standout lyric is, in true Swift fashion, a reference of her cats.
"Gorgeous" is the third single from Swift's upcoming album, Reputation, which drops on Nov. 10. While the lyrics aren't as obvious as they are on "Look What You Made Me Do," they clearly are calling out something (or someone). Wondering what (or who) the song might be about? Let's investigate the most telling lines:
"You should take it as a compliment / That I got drunk and made fun of the way you talk." — It's safe to assume this is a reference to the song's subject having an accent. Swift's exes Calvin Harris and Tom Hiddleston both have accents (Harris is Scottish, Hiddleston is British), and current boyfriend Joe Alwyn does, too (he's from London).
"And I got a boyfriend, he's older than us / He's in the club doing I don't know what." — So "Gorgeous" is about Swift meeting someone while dating another guy, who's older than her and frequents clubs. Harris is six years older than Swift and is in the biggest clubs night after night since he's a DJ.
"Whisky on ice, Sunset and Vine / You've ruined my life by not being mine." — Dropping the names "Sunset and Vine" is no doubt referencing the Hollywood streets, which intersect. Could that be a hint that the song is about an actor?
"Ocean-blue eyes looking in mine / I feel like I might sink and drown and die." — Both Hiddleston and Alwyn are actors, and both of them have blue eyes.
"Guess I'll just stumble on home to my cats." — 'Sup Meredith and Olivia?
If you want to do some more analysing, read the lyrics in full, below!
You should take it as a compliment
That I got drunk and made fun of the way you talk
You should think about the consequence
Of your magnetic field being a little too strong
And I got a boyfriend — he's older than us
He's in the club doing I don't know what
You're so cool, it makes me hate you so much

Whiskey all night, sunset in vine
You've ruined my life by not being mine

You're so gorgeous
I can't say anything to your face
'Cause look at your face
And I'm so furious
At you for making me feel this way
But what can I say?
You're gorgeous

You should take it as a compliment
That I'm talking to everyone here but you
And you should think about the consequence
Of you touching my hand in the darkened room
If you've got a girlfriend, I'm jealous of her
But if you're single, that's honestly worse
'Cause you're so gorgeous, it actually hurts

Ocean-blue eyes looking in mine
I feel like I might sink and drown and die

You're so gorgeous
I can't say anything to your face
'Cause look at your face
And I'm so furious
At you for making me feel this way
But what can I say?
You're gorgeous

You make me so happy, it turns back to sad
There's nothing I hate more than what I can't have
You are so gorgeous, it makes me so mad

You make me so happy, it turns back to sad
There's nothing I hate more than what I can't have
Guess I'll just stumble on home to my cats
Alone, unless you want to come along

You're so gorgeous
I can't say anything to your face
'Cause look at your face
And I'm so furious
At you for making me feel this way
But what can I say?
You're gorgeous