Ted Trailer Starring Mark Wahlberg and Mila Kunis
Ted Trailer: Mark Wahlberg Has a Bong-Loving Bear BFF
The trailer for Ted starts off like a typical romantic comedy: there's a meet-cute between John (Mark Wahlberg) and Lori (Mila Kunis), they fall in love, "Sweet Disposition" plays, etc. There's some trouble in paradise though, and it comes in the form of Ted, John's real-life childhood Teddy, who also happens to be his best friend. This isn't one of those invisible BFFs (a la Drop Dead Fred) either; everyone can see Ted as he smokes weed, works in a grocery store, and makes inappropriate gestures.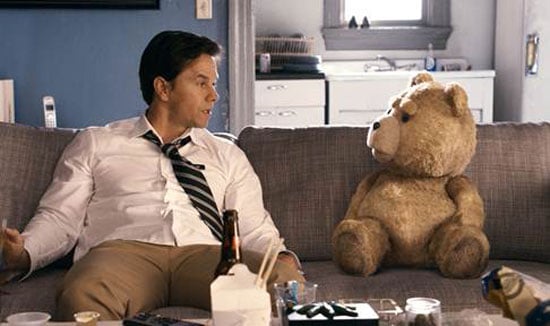 Ted kind of reminds me of Brian from Family Guy, which isn't too surprising considering Seth MacFarlane writes, directs, and lends his voice to Ted. (The fact that Ted sounds like Peter Griffin is a bit distracting). The trailer could definitely be worse, but didn't have me laughing out loud either; I cant help but think that maybe Kunis is only in this as a favor to MacFarlane (since they do Family Guy together), though that still doesn't explain Wahlberg's involvement.
Take a look for yourself and tell us what you think when you read more.