Terminator: The Sarah Connor Chronicles Season 1 UK DVD Release Review
Pop A DVD In – Terminator: The Sarah Connor Chronicles (TV)
The first two Terminator movies were always something of a guilty pleasure of mine, but when I heard the producers of the original franchise were making a series based on it I wasn't entirely sure how it would work out. I was pleasantly surprised for the most part – Terminator: The Sarah Connor Chronicles aired in the UK earlier this year on Virgin 1, and became the highest rated show on the channel – although I'm sure a lot of you may have missed the nine episode season (shortened by the writers' strike).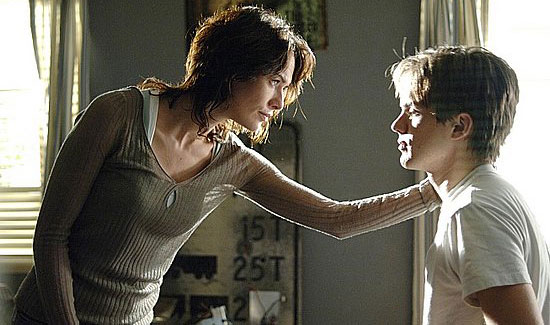 Starring British actress Lena Headey, Thomas Dekker, Summer Glau (who I loved in Firefly), Richard T Jones and Brian Austin Green - what a blast from the past – it's an action packed and enjoyable first season that picks up the story a couple of years after Terminator 2: Judgement Day finishes in 1999. But the show is mostly set in 2007 after Sarah (Headey) and John Connor (Dekker) travel there in the opening episode with the help of Cameron (Glau) – a robot sent back in time to protect John.
It could have been a horrible cash in, but the show has managed to mostly ring true for fans of the movies, as well as still being able to lead new viewers into the franchise. It most definitely doesn't follow all of the mythology though, so if you're a sucker for details and adored the movies, you might have to blinker your vision a little.
To check out more of my opinions, and find out more about the DVD release, just read more
The benefit of this being a TV series is that – although there are some great effects – this show concentrates on emotions and develops relationships that are truncated in two hour cinematic experiences. The relationship between mother Sarah and son John is expanded on – Lena Headey is awesome as a new, slightly softer Sarah Connor, delivering a performance imbued with strength. Headey also manages to portray Sarah's fierce protective instincts of John just as well in subtle glances as she does in out and out declarations.
It's not all dark and emotional though, there are some great slices of lightness throughout – the three leads balance this well, and work together to base this sci-fi tale within some reality of human emotion.
The series comes out on DVD today, and I recommend you give it a try – the short season means that it's not as huge a commitment as the usual American TV standard of 22 episodes, and if you enjoy it you have a brand new season on the way. Plus Thomas Dekker's pretty easy on the eyes (and not fifteen in real life) so, there's always that.
As I said, Chronicles has been picked up for a second season, and rather oddly Shirley Manson (from Garbage) has signed on for the new series! I'm looking forward to the expanded cast of the second series, and seeing how the story continues.
If you want even more info, then check out the series clips below to try before you buy!