Tom Felton Interview For Harry Potter and the Deathly Hallows Part 2
Tom Felton Shares His Most Embarrassing Harry Potter Moment
Tom Felton is at the tail end of promotion for the final installment of the Harry Potter franchise. He was in the States last night for the NYC premiere of Harry Potter and the Deathly Hallows Part 2, and Tom also appeared at Sunday's press conference. Tom spoke about portraying a bad guy like Draco Malfoy, as well as his most embarrassing moment on set. He also mentioned what it was like to work with his real-life girlfriend, Jade Gordon. Tom said: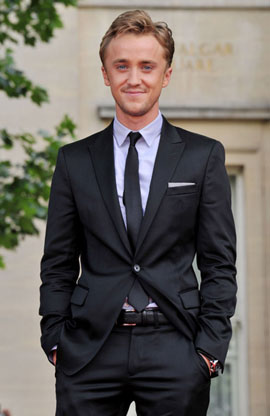 On young fans being afraid of him due to Draco: "Needless to say, we had hundreds of minors and adults having tours every day around the Harry Potter set and naturally no seven or unders wanted to have anything to do with me, which at first is a little worrying. They always get really excited when they meet Daniel, Rupert, and Emma, obviously, and then they suddenly hide behind their parents' legs when it comes to me. I probably lay it on too thick, I'm like ultra friendly like 'Hi! Nice to see you guys!' And they're really like, 'Oh my God, this is weird.'"
On embarrassing moments on set: "There's a handful. Where do I start? I guess the most embarrassing thing for an actor when you're surrounded by other actors that you look up to is just cocking up your lines. There was one time that I did it very noticeably, I forget which film it even is now, I think the third film, possibly the second one, there was a nice closing line for Draco out towards the end of it. I couldn't get it out for love nor money. I don't know what it was, sometimes you over rehearse or I'm not sure what it was but I couldn't do it and I actually started crying. I was only about 13, 14 and I was like, 'I'm so sorry, so sorry I can't do it.' Chris Columbus, the director, was very, very — he's the ultimate director with kids —  he really knows how to talk to them and he was like 'It's fine, it's fine. We got it. It's in the can, it's gonna be in the movie.' They cut it out of the film. It was never in the movie. I learned very quickly from that: don't mess up your lines."
On playing anyone other than Draco: "I didn't read the book, I didn't have a clue who Harry, Ron, or Draco was, so I was a bit clueless to be honest with you. I thought I would have made a great Hagrid but they never saw it, I don't know what it was. Not really, I've had so much fun with the Malfoy family really, the only part I could possibly consider would be my dad in 20 years for the remake or something like that. Yeah, I really couldn't see, not only could I not see myself in another character's shoes, the actors in which they did get for Harry, Ron, and all the rest of them were remarkable and I certainly couldn't have scratched their performance at all."
On his reaction to aging in the epilogue of the book and movie: "Shocking! I mean come on, 19 years and they're basing me on Jason Isaacs [who plays Lucius Malfoy]. I look like his dad! It was ridiculous. No it was fun, it was a lot of fun. It was cool. We prepared for that for months. They wanted pictures of my dad and my brothers and they did loads and loads of endless tests. I think it was a message to kids to say crime doesn't pay regardless and to warn off anyone with a goatee is not to be trusted, I'm not sure. It was a lot of fun, it was a lot more fun to take it off at the end of the day and go back to my normal age. But yeah it was actually one of my final scenes that I've shot so it was a really nice way of finishing it off for me, especially as it was almost 10 years to the day where I was the kid being put on the train. So it kind of felt like my life flashed before my eyes but it was a nice way to finish it for sure."
To read what Tom says about working with his real-life girlfriend as well as maybe becoming a professional musician, just read more.
On the casting of his real-life girlfriend, Jade, as his future wife in Harry Potter: "Sure, the lovely Jade, yes. Both of our arms were twisted to get her involved, mine first then hers. It was originally from David Heyman, the producer, came to me then David Yates loved the idea and followed up. Jade actually is my real girlfriend in real life and has been for three and a half years so it was a lot of fun to play onscreen hubby and wife for a bit and have a kid for three days. Three days is a good amount of time, for anyone wondering — it's perfect cause by the end of it, it's like, 'OK, see ya later!' No it was cool. It was really nice to be a little family for a day."
On the pressure of making that family a reality: "Whoa! Actually — who is it I was telling earlier I was really looking forward to showing my kids the films? — they were like, 'What! When did you have kids?' No, we're talking decades away. Thank you for the prompt."
On ever making music his career: "Yeah, not really. I definitely don't want to turn making music into some sort of career. I think I'm going to suck the life and passion out of it if I do that. It's a hobby. It's always been something that I've done to kill time especially when I'm waiting for scenes to be set up and things like that, and I want to keep it that way really. It's something that I'm very passionate about and I hope to be able to help other young musicians somewhere along the lines but for me personally, no. Fingers crossed I hope to continue with the acting."