UK Gossip Girl Recap: Series Two, Episode Four, "The Ex-Files" Shown On ITV2
Pop Watch: Gossip Girl, Episode Four, "The Ex-Files"
When the couples split up, Gossip Girl just seems to get that little bit more entertaining, don't you think? As predicted, things got funnier/way more entertaining without all that overanalysing Dan and Serena love-fest stuff, plus of course it's always best when Chuck and Blair are flirting via scheming instead of actually trying to be together. All of these unromantic elements came together to make a pretty dramatic return to school for our favourite Upper East Siders.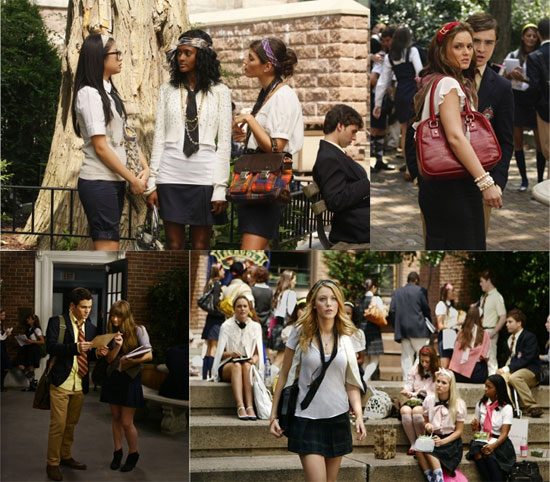 We finally got to see "Bad Serena" in this episode, the one we've only heard rumours about and seen scandalous flashbacks of. This version of S appears to be less overtly mean girl than Blair, but far more icy and scary.
I'm loving the Bass-van der Woodsen family breakfast scenes where Lily sort of listens as Serena and Chuck trade insults, but doesn't actually interject or anything.
Remember the drinking age in the US is 21, not 18 like over here. This ep really reminded me of all the drinking they get away with — at some of the swankiest bars in Manhattan! And they're not even taking it easy with a beer or two, it's cocktails, martinis, and service with a smile for these teens.
To read more of my thoughts and to leave your own, just read more
Jenny educates her family (and us) on the first day of school process in which Blair and her crew sort the new girls into two groups: projects and victims. I love that this process comes complete with folders on these girls' lives that Blair somehow has access to. She really is the Queen B...
Blair had the best advice for Serena: "Breakups are easy. It's having to see them date someone else that's hard. Why do you think I rub it in Chuck's face every chance I get?" Have I mentioned how much I love the Blair/Chuck dynamic?!
Dan and Serena this episode are a little bit like that chicken/egg conundrum — it's hard to tell what comes first. Does Dan's self-righteousness make Serena feel terrible about herself, therefore pushing her to be conniving and mean? Or is Serena really conniving and mean, therefore pushing Dan to unload a world of self-righteousness? It makes my head hurt just thinking about it!
I think Serena just about wins this one, though — Dan really shouldn't have asked another girl out their first day back. That felt mean. I think maybe if I were Serena I would have gotten drunk and flirted with hot lacrosse players, too, honestly. And then maybe stared at my awesome hair for a while.

I have to say I'd guessed that the Duchess was sleeping with Marcus but it still made me wince. I winced even more when Marcus talked in his awful British accent about a crackling fire or something or other. Hurrah for this storyline coming to an end — I felt like it overstayed its welcome.
A Nair martini? Yuk! Would it really make hair fall out that quickly? These girls get really, really cruel! I was scared for this girl before I knew she was in cahoots with Chuck, and I'm still scared for poor, tortured Jenny.
So, what did you think of this episode? Are you prepared for the rise of Queen Serena? I find it funny that this whole "queen of the school" thing comes down to the opinions of three girls who live in the background and get maybe one line an episode. I can't wait to hear your thoughts!