UK Recap Of Lipstick Jungle, Series 1, Episode 2 "Nothing Sacred"
Pop Watch: Lipstick Jungle, Episode 2 "Nothing Sacred"
We're now two episodes in, and I've got to say I'm warming up to Lipstick Jungle a little more. I did find my attention drifting a couple of times, but... well... then Kirby and his hot body arrived and everything was OK. There are a whole bunch of strands that I liked about the episode, and the show looks like it's capable of sustaining a plot line week to week, so I'm definitely carrying on with this New York-set series! Here's some of my thoughts on the second episode:

Wendy's character troubled me a little in this episode. I really like Wendy and I do feel a lot of sympathy for her. Basically — she does not seem to be the kind of person who deserves to have an expose written about her.
They kept telling us that Wendy is a heartless ice queen, but she seems like the opposite of that to me. We saw her in the last episode as a hugging executive, a good mother, and a tough negotiator, but not somebody harsh or ridiculously self-involved the way this book made her out to be. I realise it would have been exaggerated, but... it still didn't quite work for me. In the context of the show it's hard not to be on Wendy's side, to the point that I find it hard to understand why anybody wouldn't like her (Example? Even her own daughter said, "You have enemies? Sweet!").
For more of my thoughts, and to share yours, just read more.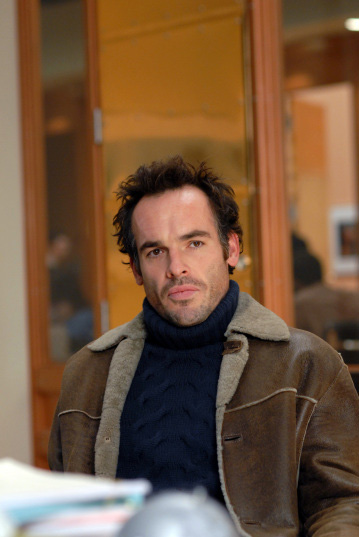 For Wendy to be that person, she would've had to be way more like Janice. Even when it seemed like Wendy would get her to back down, Janice had another trick — the paparazzi photos — up her sleeve.
So Shane leaked the info which made it into the nanny script? I mean, I understand that he thought he was just having a conversation — but still, wouldn't he have been a little more careful?
While we're in that area of thought, erm, Nico letting Kirby take those photos? Come on, those have to get leaked everywhere. Weren't you thinking, "You know how this ends!" as it happened?! Two of our three ladies are now tabloid material.
Those Pilates machines looked like torture, but... I kind of want one.
I've got to say Victory's "finding a hat" storyline was the weakest again, and I didn't enjoy Joe sweeping in to save the day. It did give us the "Vera Fang" reference, though, so maybe it wasn't all bad. However, I'm growing to Lindsay Price in the role, slowly but surely. Give me a couple more episodes and I think I might have warmed to her.
However Victory's stealing cheat of an ex-assistant really perked up my interest. That storyline should create something good for Victory, when she finds out.

The best part about Nico's Royals storyline was watching her half-embarrassed, half-smitten face as the photographer prattled on about "legs, nipples, lips" while Kirby stared at her.
Oh, did I mention I am so loving Kirby. He is ridiculously hot. That body... Possibly my favourite part of the show, I'd watch just for him...
I don't think I've mentioned this before, but I really do think the music on this show is fab.
I can't wait to hear your thoughts on the show, so leave them below!