UK Review Of Baby Mama Starring Tina Fey, Amy Poehler, Steve Martin and Greg Kinnear
Pop Preview: Baby Mama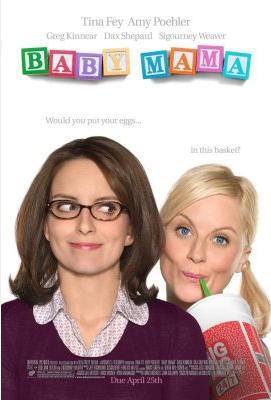 First things first, Baby Mama ain't rocket science. And why should it be? It's a likeable, smile-inducing comedy with a couple of super-talented ladies at the helm: Tina Fey and Amy Poehler.
Tina plays Kate Holbrook, a woman at the top of her game professionally, but slightly less so personally. Babies haunt her: everywhere she turns, there's a baby... it's kinda scary. But "I just don't like your uterus" says her doctor, and she's told she's unable to have a child herself. Enter hard up Angie (Poehler), who rents out her womb to Kate in return for a dollop of cash for her and on-again off-again man Carl (Dax Shepard). After their relationship flips to off again, Angie moves in with Kate and the fun begins!
Angie has many many less social graces than control-freak Kate, causing all kinds of awkwardness and a couple of gross-out moments, but despite all that they gradually become genuinely believable friends. The friendship between the two of them is one of the main draws of the movie for me.
To find out what I thought of the supporting cast including Steve Martin, and what I thought could have been better, just read more
The supporting characters are all great too. First off, Steve Martin is absolutely wonderful as Kate's insane boss. His long grey ponytail and rewards for his staff (for example, five minutes worth of uninterrupted eye contact) are worth the ticket price alone. Another awesome supporting player is Romany Malco – who plays Kate's doorman and kills with every line he has, as well as providing a refreshing outside voice of reason at a couple of points. Greg Kinnear is likeable and mostly charming as Kate's love interest, and Angie's birthing coach (Siobhan Fahen) brings in some consistent laughs.
Now for the slight negatives: I found Angie to be a bit of an inconsistent character, flitting between being pretty trashy, then all of a sudden becoming normal and nice, before flicking straight back to trashy next time she appeared onscreen. A fair few of the jokes fell pretty flat in the screening I attended too, but there are certainly enough aces to make it worth your while. Tina Fey and Amy Poehler are without a doubt two talented comediennes, I loved Fey's Mean Girls and am looking forward to Poehler's new TV series too.
All in all, this is a refreshing movie. It's not all about a girl/guy relationship, or boys being boys – which seems to be the basis of so many funny movies these days. Sex And The City proved that female focused movies can bring in the audiences, and seeing two talented, hot and smart women provide a female alternative to the predominantly male "buddy comedy" is great because it works. It's funny... however I can't help but think that if Fey had scripted it (as she did Mean Girls) it would have been even funnier!
Baby Mama is out on Friday in the UK.