UK Review Of Neimo's EP Poison The Chalice
Pop Jukebox: Neimo – Poison The Chalice EP
Despite frontman Bruno Alexandre's transatlantic vocals and Neimo's English lyrics, the members of this charismatic band are all from Paris, France. They released their EP Poison The Chalice in the UK on Monday and are creating buzz both here and in the US. The rather good-looking band are signed to US label Shangri-La records, after struggling to find a record label to sign them at home because 40% of music played on French radio stations must be sung in French.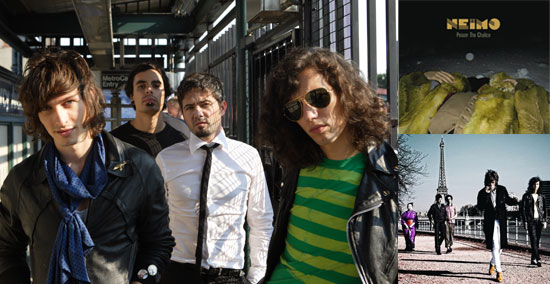 At first listen there's bizarrely no indication that the band are French — their spiky 80s-tinged guitar pop/rock has shades of many British and American musical influences, and Bruno's English language vocals have no sign of his accent.
The stand-out track on the EP for me is "Peter and the Wolves", a chilled out track that draws you in beautifully before it's fabulous chaotic end. It shows a different side of the band to the danceable pop music that fills the rest of the EP. The catchy title track "Poison The Chalice" has shades of latter era Strokes tracks entwined in it. It's an energetic and melodic guitar pop track that also reminded me of the Red Hot Chilli Peppers at times, this is definitely no bad thing!
Those Morrissey and The Smiths influences show up in the vocals and melody on my second fave track —"The Story Of Your Favourite Song" — and mesh nicely with a beat that mirrors that in The Jam's "A Town Called Malice". The most pop of the four tracks is "Something In Common", it's upbeat, fun and has a singalong chorus that is threatening to stay in my head for days.
If you like the sound of Neimo — and why wouldn't you?! — the EP is available for £2.49 on iTunes, and you can check out some songs on their MySpace.