UK Review Of Pineapple Express Starring Seth Rogen and James Franco
Pineapple Express: A Fun Action-Packed Buddy Movie
The biggest strength of Pineapple Express (out today in the UK) is the brilliant chemistry between Seth Rogen as stoner Dale Denton and the yummy James Franco as his dealer Saul Silver. I have fond memories of the two actors working together when they were younger in one of my favourite TV shows Freaks and Geeks, so seeing them reunited in this movie was fun on a couple of levels for me.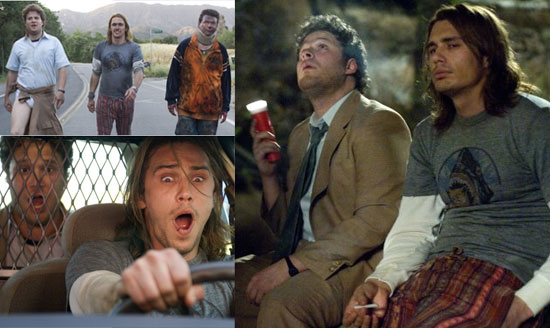 Both Dale and Saul are the typical emotionally-stunted guys you see in a Judd Apatow produced movie (see Forgetting Sarah Marshall, Knocked Up etc). Dale's in his twenties, he serves subpoenas for a living, dates a girl who's still in high school, and smokes a lot of pot. Saul seems pretty lonely, watches daytime TV and deals pot for a living. So far, the characters are kind of familiar and uninspiring, but it's obvious from a very early stage that Franco and Rogen had a blast making this movie and this is infectious — whenever they have a scene where it's just the two of them, their interaction and easy repartee is so natural and charmingly funny that I couldn't help being caught up in it. Thanks to this I was won over pretty early.
To read more of my thoughts on the movie, just read more.
But back to the story, following a trip to see Saul — who supplies him with uber-rare pineapple express weed following an awkward one-sided conversation — Dale goes on to serve another subpoena, stopping to smoke a little of his new stash in his car outside. This is where the movie takes a major turn, as Dale witnesses a murder and becomes a spluttery, stoned mess, drawing attention to himself before he throws his super-rare-pot-filled joint out the window and drives straight back to tell a panicking Saul. The two of them then go on the run, moving full swing into funny action-packed buddy movie territory of films like Lethal Weapon and Midnight Run.
The action sequences and gory fight scenes breathed new life into the familiar Apatow formula for me — seriously, some of the scenes are pretty gruesome, but the shock value is lessened in impact by the comedy surrounding them. Some of the supporting characters are hilarious too, especially Craig Robinson as a hilarious villian, and Danny McBride who scene-steals frequently as Saul's supplier Red, and gets a lot of punishment throughout the movie. Throughout the film I was giggling, then wincing, then giggling again, I was kind of exhausted by the time the credits rolled!
Though I cared about the status of Saul and Dale's friendship, I found the violence too cartoonish to actually worry about whether the characters (main and supporting) were injured or not. But I think if I was too upset by the fact I didn't end up feeling too much for characters in peril I would be missing the point of the film. If you're looking for something deep and meaningful, then going to see a self-described stoner action movie probably isn't the best plan. However, Pineapple Express a fun movie that I recommend seeing if you want to giggle inanely for a couple of hours, and watch a couple of men engaged in a serious bromance. It was lots of fun.