Uma Thurman In InStyle Magazine - Interview Excerpts and Photos
Uma's On Being Aloof, Intimidated And Talkative
Uma Thurman is the cover star of December's InStyle, and inside the magazine she's interviewed about everything from her relationships to aging, acting and her stalking nightmare. You can read the interview in full in the magazine, but for now, here are some excerpts: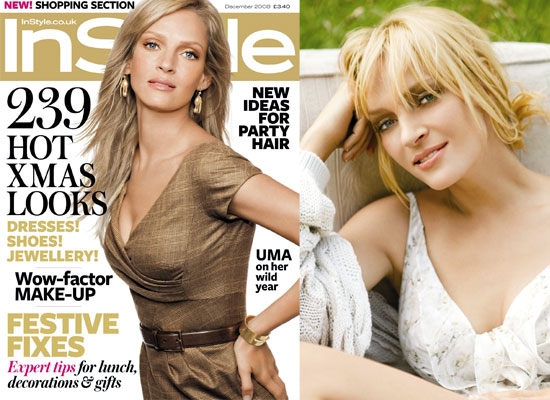 On her reputation: "I have a reputation for being aloof, but the truth is I'm initially intimidated by people. Get me started though and I won't come up for air."
On her recent engagement to Swiss Financer Arpad Busson: "I know a lot will be written about it — most of it untrue I should add. What can I say? I'm excited, optimistic and joyful."
On her divorce from Ethan Hawke: "It has been four years and I don't want to focus my life on that. If people want to know what I think of my ex-husband having another child, why not just say that I wish the father of my children all the happiness in the world?"
To read more from Uma on her experience with a stalker, children, celebrity and her looks, just read more.
On the male fan who was stalking her: "I don't want to give any more energy to that. But if anyone is forced to call 911 and as a result something becomes a police matter, you can't abandon the process: you need to cooperate and allow the police to do what they need to do. I wasn't being courageous. It was a situation I needed to see through in order to protect my family."
On having children: "I understand that raising children is universally difficult and that people read an article hoping for something worthwhile in it. The truth is I am not on some inside track. I have no incredible revelations to share."
When asked if she plans to have more children: "I can safely say I don't know, if it's meant to happen it will. I love and adore being a mother. It's the greatest gift I've ever been given."
On fashion: "I've always admired how European women have such effortless style, as though they've been culturally raised to wear clothes gracefully and effortlessly. There's something wrong about trying too hard to be fashionable. When people are too 'outfitted', it comes across as self-conscious."
On being a celebrity: "Being a celebrity is one of the fringe aspects of my job and one I've been tutored in, so to speak. I've learnt how to use it in a positive way and benefited from the brush with fame I had in my teens. It's important to stay clear headed and not to let fame become toxic."
On the paparazzi: "I'm sometimes confused by what they choose to photograph. On the set of Motherhood, I was in a hippie floral dress and Birkenstocks. I can't imagine who would be interested in seeing me like that."
On aging: "For an actress, every developmental stage is a culling of the herd. New people are found and pushed to the forefront. It freaks me out a little less these days. It makes it easier having gone through working as a teenager and being told that there would be no career for me as a 20 year old. And then working as a 20 year old and being told that was it. And then having children and being told there wouldn't be a career for me now. The characters I get to play as a mature woman are much more interesting than the ingénues I got to play as a kid, so I feel okay about it."
On her looks: "It's the same with all actresses. Whether it's there beautiful long wavy hair or their extraordinary lips or their sparkling green eyes or warm laugh, they're pegged to some physical attribute. If I looked distinctly different, I would have a different kind of career and different kinds of challenges. But there are plenty of challenges that come from being a tall girl. Nobody would have thought I would have a 20-year career in front of me when I started!"
To read more from Uma, pick up the latest InStyle, out now.