Video Of MTV VMAs 2008 Promo Featuring Russell Brand and LL Cool J
Russell Brand Is Far From Bland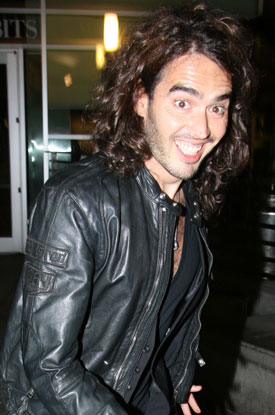 Russell Brand was full of smiles as he went to the cinema in Hollywood. The comedian is spending more and more time in LA, as the biggest presenting gig of his life approaches.
When he's not spending time chatting up mannequins, Russell will no doubt be busy preparing for the MTV Video Music Awards.
Following that VMA promo with Britney — where the singer says Brown instead of Brand — we've got more surname fun as LL Cool J calls Mr Brand a word that no one could accuse him of being.
I cannot wait for 7 September. America watch out: Russell Bland, I mean Brown, I mean Brand, is about to take over your airwaves.