Watch David Beckham Talk About Victoria, Brooklyn Beckham, Romeo Beckham, Cruz Beckham In His Live Yahoo Webchat 2010-07-15 05:30:00
Watch David Beckham Being Interviewed By The World!
Yesterday David Beckham sat down with Gabby Logan to be interviewed as part of a live Yahoo webchat with representatives from nineteen countries. He chatted for an hour and a half with fans, talking about his family, the World Cup, his job, football and his hopes for the future. If you're a fan it's a fascinating look into his life as he chats about the different personalities of his kids, how he's going to deal with Brooklyn's new interest in girls, what makes Victoria laugh, eating Angel Delight in Afghanistan, and what he'd do if he didn't play football. Check out the entire thing after the jump!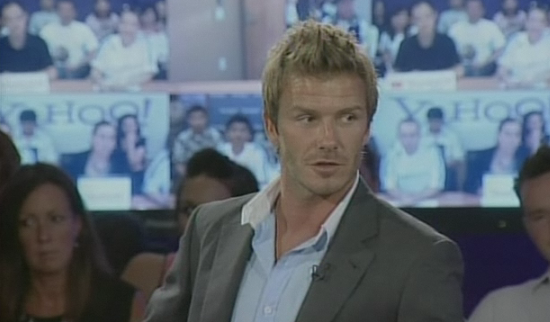 To see the entire fascinating interview, just read more.