Watch an Interview and Q&A Session With Chuck Palahniuk About Choke Plus Scenes From the Movie
Chuck Chats About Choke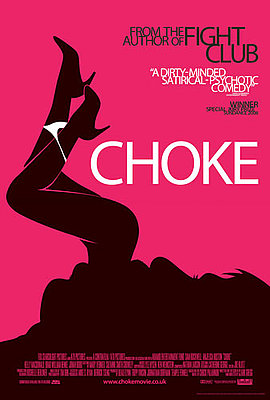 Like the majority of you, I'm excited about seeing Sam Rockwell and Angelica Huston in Choke, and the wait is now over as the film is released nationwide today. Having read the book for October's PopUK Book Club, I'm intrigued to see how the film compares to Chuck Palahniuk's fantastic novel.
Choke follows Victor Mancini (Sam Rockwell), a sex addicted Colonial village re-enactor who pretends to choke in restaurants to help pay for his mother's medical bills. Concerned that time is running out, he engages in various fantasies in an attempt to find out the identity of his father, aided by his best friend Denny (Brad William Henke) and his mother's doctor Paige (Kelly Macdonald).
The book is hilarious, moving and shocking, so the film adaptation has a lot to live up to. Having won the Special July Prize for Best Work by an Ensemble Cast at this year's Sundance Film Festival, it certainly sounds like it's going to be great.
Check out the video below to see Chuck chatting about the film.
To see more video footage of Chuck, plus scenes from the movie, just read more.
Images and video footage courtesy of 20th Century Fox