Watch Jordan aka Katie Price's Interview on This Morning She Claims Peter Andre Has a Girlfriend and Peter Knows Who Raped Her
Peter Denies Katie's Claim He Has a Girlfriend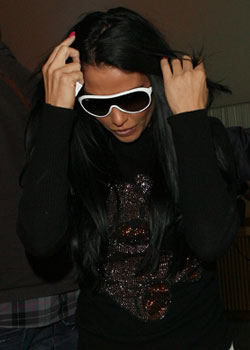 Katie Price slipped on sunnies as she left This Morning's studios in London yesterday. During her interview on the show, which you can watch after the jump, Kate spoke about her recent revelation that she was raped. They brought up the alleged report that Peter Andre didn't know, but Kate responded by saying "he knows who the other person is". The big surprise during her interview was Kate's claim Peter is no longer single. She said:
"He is seeing a girl, it hasn't come out yet but it's slowly coming out because I've read it, and I just hope he's happy... As long as they're good to the children, that's all I can ask, because it's going to happen one day, I've got no hard feelings, I just hope everyone gets on... I'm fine with it."
Pete's rep was quick to deny the rumours, saying: "It's absolutely not true. There is no secret girlfriend." Kate also laughed about her fling with Andre Pinto, claiming he was "rubbish", and insisted her relationship with Alex is "not just a quick little thing" although when asked if she loved him she replied "that's quite a strong word". To watch Kate's interview, read more.
Part 1
Part 2