We Talk Sexism, Obama and Clinton With Scarlett & Natalie
We Talk Sexism, Obama and Clinton With Scarlett & Natalie
We're coming close to the end of my Q+A with Scarlett, Eric and Natalie – we've discussed the making of The Other Boleyn Girl, and their impressions of the UK – but in this penultimate installment the girls talk about the treatment of women both in the time the film is set and in the 21st century, and they also confirm the candidates they're backing for the US Presidential election. It's fascinating to hear the passionate responses from both Scarlett and Natalie, I hope you enjoy reading them as much as I enjoyed listening to them speak.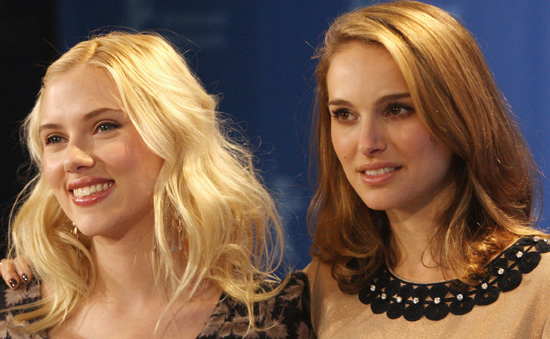 As modern women, how did you comprehend that the Boleyn girls were pretty much sold off by their father and their uncle?
NP – I think it's interesting, because although women have made a lot of headway since then, I think there are women who are made to have sex or marry for position or money – today a lot of women also choose to have sex with someone or marry for position or wealth. So we see it still today – there are still vestiges of those societal limitations on women, and I tend to think that has to do with opportunities that are available. It says a lot that that is still sometimes the best opportunity for a woman to advance herself.
To read Scarlett's response, and their US Election hopes, read more
SJ – And it would be silly to assume that it doesn't still happen in other parts of the world. When you travel and see the limitations that are put on women in certain countries, you really feel thankful to have grown up in a society where, you know, both my parents always encouraged my sister and I. We were told you're your own person and you can do whatever you want and we were never limited because of our gender. Both Natalie and I have had a lot of questions saying 'God, women have moved so far on from this period' but the truth of the matter is in many parts of the world it's not that way.

NP – Including the United States, I mean, in Saudi Arabia women aren't allowed to drive cars, but in the US if you look at the number of female CEOs of companies or women in congress it's still in the dark ages. It's not so different in our own societies.
How important then do you think it would be to see a woman in the top position in American public life as President of the United States?
NP – Very important. I'm very pro-Hillary so I hope to see her as our leader.

SJ – I am in the other camp... I think it would be great to see Michelle Obama in the White House.
We still have Scarlett's solo album and upcoming movie role to discuss, and I'll be letting you know my thoughts about the movie, which comes out March 7th, so keep checking back!