What Will Happen to Glee After Cory Monteith's Death?
Ryan Murphy Addresses How Cory Monteith's Death Will Be Handled on Glee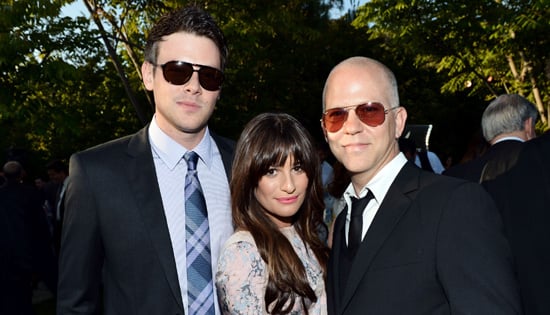 Glee producer Ryan Murphy has broken his silence since Cory Monteith's tragic death, after it was announced this week that the production of Glee's fifth season will be delayed until late August with a premiere date of Sept. 26. Ryan spoke to Deadline about the future of the show, saying, "We will begin shooting in late August the two shows we had already written, so that people can physically go back to work. We will then do an episode that will deal with the death of Finn's character and follow that with a long hiatus. I don't know exactly when we will come back, and we are trying our best with this attempt at damage control. We are planning a memorial for the cast and crew sometime this week on the Paramount lot."
In another interview with E! News, Ryan opened up about the recent loss of his friend and colleague, saying, "It's hard to even explain how personally upsetting it is," and, "His last words to me were 'I want to get better.'" Ryan also revealed that the future of the show rested on Lea Michele's shoulders: "Ultimately the person who made the decision was Lea, who felt that the best thing for the cast and crew was to be together and to get back to work and be together every day and talk about our memories of him." He added, "I've never met any 26-year-old person stronger than Lea. I think she's handled this with a great amount of decency and grace and privacy."
See more from Ryan on Cory's death and what's next for Glee when you keep reading.
On Cory's addiction: "We had an incident in March where we found out he was using again and staged an intervention in my office with a lot of appropriate people. We reassured him that his job was 100 percent protected because he thought he was going to get fired. That has been feeding into all of this, why it's so shocking and so debilitating and tragically sad, because we were all rooting for him and trying to help him in every way that we could, so it feels even more devastating. It also feels in some weird way like I failed, even though I know that that's the plight of addicts, so what can you do? But it's just really hard and really upsetting. I feel like we did everything that we could and I know that Lea feels she did everything that she could."
On delaying the fifth season of Glee: "It was really about the cast and crew. People want to be together, and I think it's important that people have an outlet for counseling, which we're providing on set for two weeks. Because those episodes were already written, we felt and Lea felt it was best if people come back and be together sooner than later, so that's what we did."
On considering ending the show for good: "If Lea had said to me, 'I could never do this again and I don't want to do this again,' you know, she is sort of the show, so what do you do? And I would've, out of respect to her as a person, said 'OK,' but that's not how Lea operates; that's not how she feels. Nothing has been done and will be done in terms of any of the material without Lea blessing it and making sure it's OK with her and she has been."

On Lea's decision to go forward: "She's really been the leader in this situation, which is very unfair in a weird way because this show has always been so complicated about characters merging into personal lives, merging into public identity. It's just rough, and it sucks, and there's no right way to do it, but ultimately, everyone involved made the decision, 'OK, what does Lea want to do? What would Lea feel comfortable doing?' At the end of the day, all we're all doing is following Lea's lead. It really is about what is best for Lea, how does Lea want to move forward. What does she want to do, how does she want to memorialize him. I think she's handled this with a great amount of decency and grace and privacy. I think that people have just followed her lead."
On how Cory should be remembered: "He was very beloved by the crew. I think Cory was very much like Finn, that Cory really was a champion of young artists and the underdog. I hope that that's how he's remembered and I think he will be because that's how he was in real life with his causes and his outreach programs. Also I think a lot of people, a lot of young kids, have watched that evolution of that character and have been touched by it, and hopefully that's his legacy."