What Powers Does the Ice Dragon Have on Game of Thrones?
6 Questions We Have About the Ice Dragon on Game of Thrones
Hopefully we can all be in agreement that Game of Thrones' season seven episode "Beyond the Wall" is a particularly gut-wrenching episode. While other things happen in the episode, I'd like to take a minute and focus on my personal favourite group of degenerates making a supercasual trip north of the Wall to wrangle a wight. We also see a zombie polar bear, which, again, may not be that important in the grand scheme of things, but I truly lost my sh*t when I saw it on my screen. The most important thing to come out of this episode was, obviously, the fact that the army of White Walkers now has a freakin' dragon (RIP, Viserion).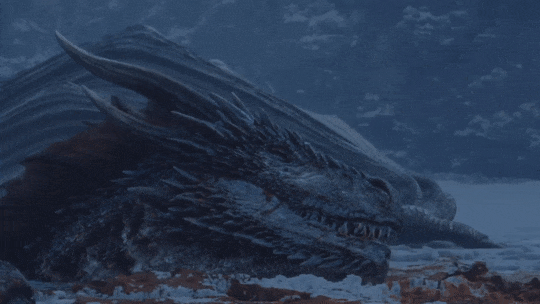 There are so many questions that follow, like, is the ice dragon a wight or a White Walker? Who will be riding him? Will dragon Drogon kill dragon Viserion? How much dragonglass is necessary to kill an already-dead dragon? But we actually have more questions about what powers the ice dragon actually possesses now.
Will the ice dragon breathe fire or ice?
Will whatever he does breathe just kill everyone OR turn them into wights/White Walkers immediately?
How will the ice dragon break the wall?
Will he kill his bros? (Please, God, no.)
Does this officially cancel out the three-headed dragon theory?
Here's to hoping the season finale answers most, if not all, of these questions. In the meantime, is it appropriate to pray for the well-being of fictional characters?