What Is Vaes Dothrak on Game of Thrones?
What Is Vaes Dothrak and Why Doesn't Daenerys Want to Go There?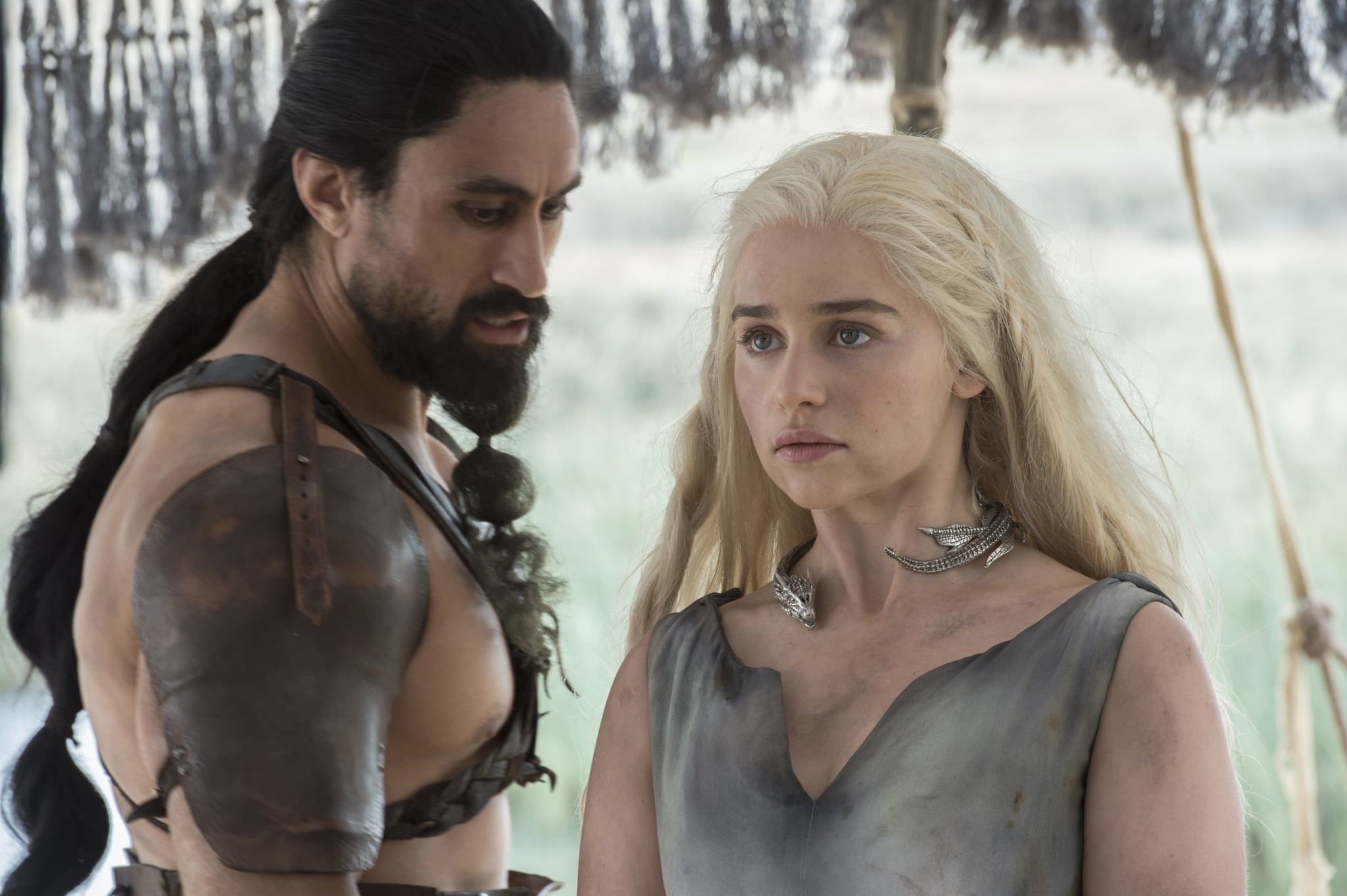 The return of Game of Thrones brought us some much-needed relief for some characters, but others were not so lucky. One character in particular who's in peril is Daenerys Targaryen, who was captured by Dothraki soldiers at the end of season five. In the season premiere, she is brought to Khal Moro as a slave, and I think we all breathed a collective sigh of relief when Dany tells him that she isn't just some random prisoner: she is Daenerys Targaryen, Breaker of Chains, Mother of Dragons, and the widow of Khal Drogo.
Unfortunately, Khal Moro really rains on Dany's parade when he says that he'll be taking her to the place where every khal widow goes: Vaes Dothrak — "to live out her days with the widows of the dead khals," one of his wives chirps. Daenerys does not look pleased, and if you've forgotten about the deal with this ancient city — and why she has that "God, no" look on her face — let us remind you.
Vaes Dothrak Is the Dothraki Capital
The Dothrakis only have one city, and it's their capital, Vaes Dothrak. But unlike King's Landing, it's not really a bustling metropolis. In fact, it's large but mostly empty — only really alive when a khalasar is in town.
Who Lives There
Though the city can be empty at times, the dosh khaleen — i.e., all the living widows of every dead khal (and they die a lot, so there are many of them) — live there permanently. In the books, Daenerys is told that she would be expected to live out her life there once Khal Drogo died, or she would face death. Of course, after Khal Drogo's death, Daenerys emerged from a fire with her dragon babies, so no one really made a big deal about it then. It doesn't seem like Khal Moro knows that story, though, or cares, and is ready to ensure that Daenerys is returned to her "rightful" place.
You've Seen It Before
We saw the city in season one, when Daenerys has to prove her worth to the dosh khaleen by eating a horse heart. If you forgot that she did that, it's worth rewatching the scene to see Daenerys really go for it. The dosh khaleen are chanting while she scarfs that thing.
It's Very, Very Far East
Vaes Dothrak doesn't pose an immediate mortal danger to Daenerys — she is both protected from rape as a khal's widow and blood is forbidden from being shed within the city. But there is a huge problem with being in Vaes Dothrak: it's extremely far away, in the northeastern corner of the known world. It's just about as far away from Westeros as you can get (one of Viserys's complaints about it when Dany has to travel there in season one) and, one would think, will make her rescue even more difficult.
Here's a Look at It in Season Six
A recently released clip shows Daenerys entering the city in episode three of the current season. Here's a preview of her return.
Good luck to her.