Where Do William and Kate Go on Holiday?
5 of The Duke and Duchess of Cambridge's Favourite Holiday Spots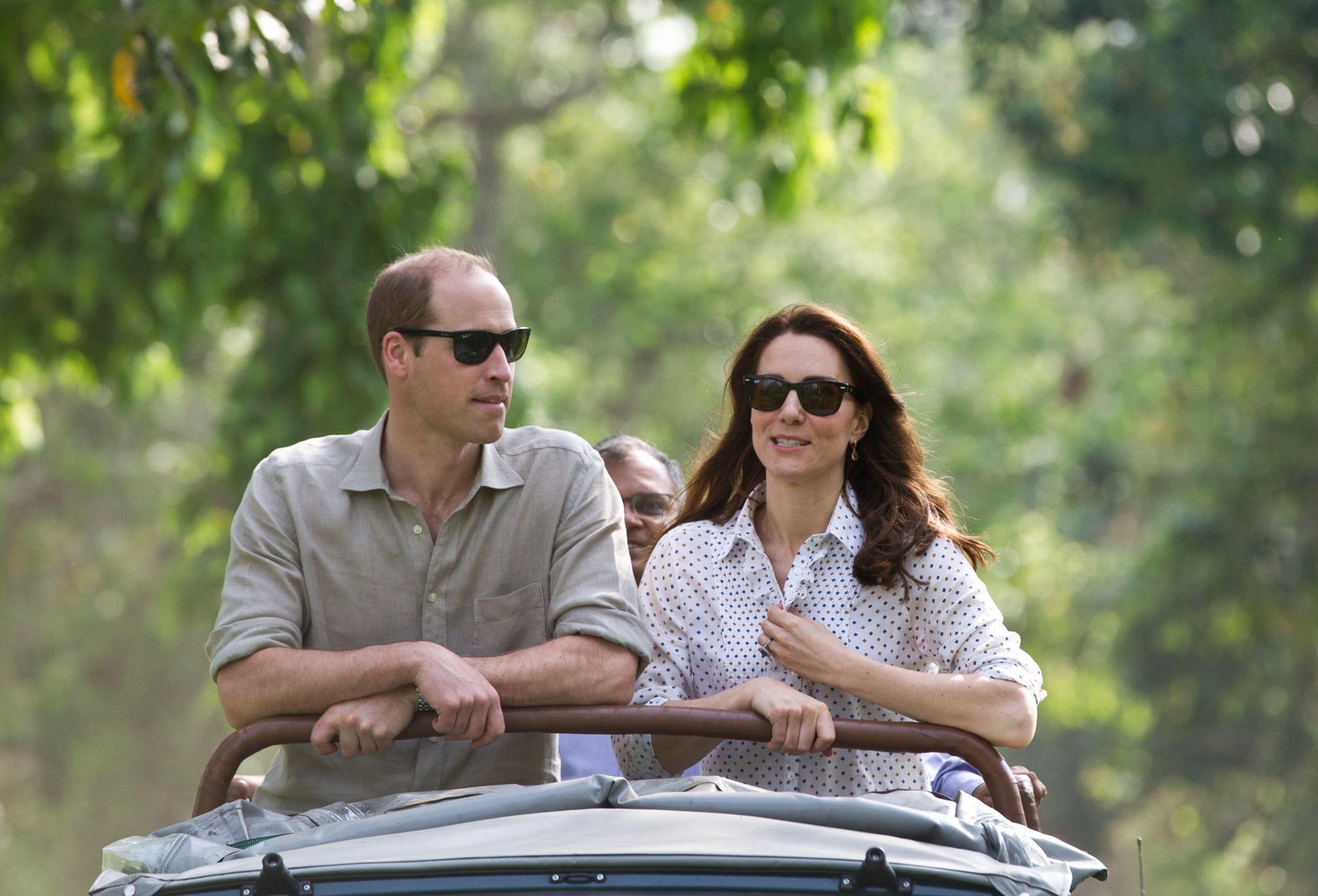 Image Source: Getty / Samir Hussein
From safari drives deep in the heart of Africa and European sunshine breaks to raucous ski trips and declarations of love in the Indian Ocean, the Duke and Duchess of Cambridge have had some pretty memorable holidays over the course of their 14-year relationship! Ever since they were spotted kissing on the ski slopes of the Swiss Alps in 2004, they have tended to go away twice a year together, heading once to the sun and once to the snow. However, there has been a fair bit of switching things up over the past few years that reflects their changing lives. These days, the couple makes a point of going away for a reboot break ahead of every royal tour they undertake, and times have certainly changed since the births of Prince George and Princess Charlotte.
The Alps
Klosters in Switzerland has always been Prince Charles's favorite ski resort, so it's no surprise it was William's choice too for many years. He and Kate have holidayed in the picturesque chocolate-box town a handful of times with Charles and other family members, as well as with their own friends. It was the backdrop for that first snowy kiss and also where Prince Charles took them as part of a small group ahead of his wedding. In recent years, though, William and Kate have moved on from the old-school resort and mostly favoured buzzier destinations in the French Alps. They have been to both Méribel — a Middleton favourite and the location of Pippa's bachelorette trip — and Courcheval, which is where they took Prince George and Princess Charlotte last year. Additionally, William headed to the Swiss resort of Verbier earlier this year for his infamous boys' trip.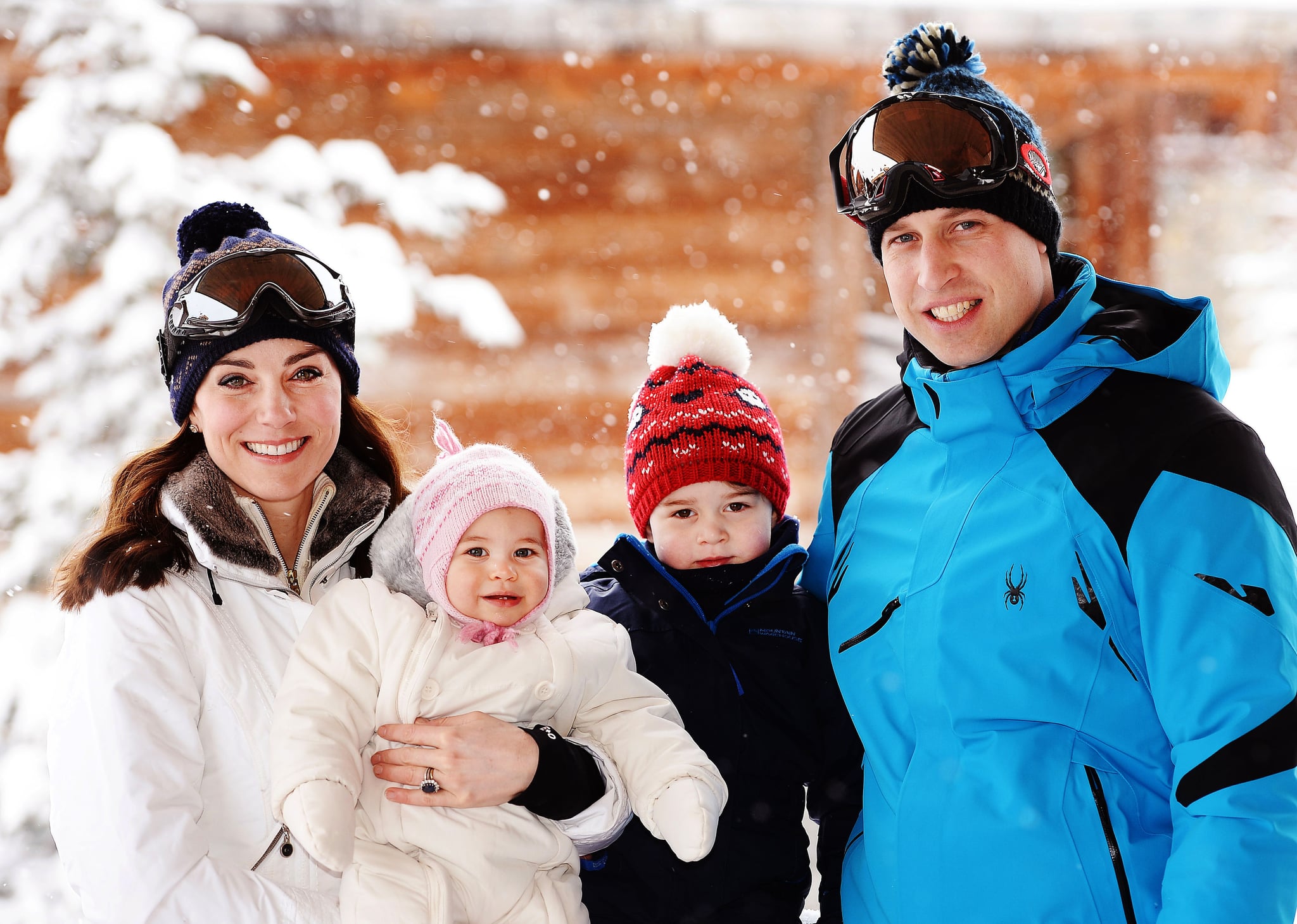 Image Source: Getty / JOHN STILLWELL/AFP
Indian Ocean
In the first flush of romance, William and Kate vacationed on the rustic island of Rodrigues, just off the mainland of Mauritius. William had been there on his gap year working on an environmental project and returned with Kate and some friends when they were at university. He and Kate went back to that part of the world in 2007 when they stayed at the Desroches Island Resort in the Seychelles, which is where they cemented their relationship after their brief breakup. When they returned for their honeymoon in 2011, they stayed on North Island with their own private chef and spent time snorkelling. In 2014, they chose the Maldives ahead of their tour of Australia and New Zealand. The pair left Prince George at home with Kate's parents and had a week together at the Cheval Blanc Randheli Hotel.
Mustique
The ultraluxe Caribbean island has been a Middleton family favourite for years, and William and Kate holidayed there for the first time together in Villa Hibiscus, where they played beach games and went for drinks at the Firefly Hotel. Kate's tipple of choice? A piña colada! The couple has also stayed in the spacious Villa Rocina, but most of the time they — along with Kate's family — have stayed in Villa Aurora, which features individual little cottages around a central pool. While there, they usually go scuba diving, play tennis, and have drinks at The Cotton House Hotel. However, since Princess Charlotte was born, they have stayed a little closer to home.
France
It seems that a quick one-hour plane journey is now preferable over lengthy flights to the Caribbean once you have two little ones in tow. Last year, instead of joining Kate's family in Mustique as they have in the past, William and Kate took George and Charlotte to France for a week in the sun. Ahead of their tour of Canada, the family of four spent some time at the Hotel du Palais in Biarritz on the French coast before staying with friends and family nearby. William and Kate had also holidayed in France ahead of their tour of Asia in 2012. On this occasion, they stayed in the chateau belonging to David Linley, the son of William's great-aunt Princess Margaret, but what was meant to be a relaxing mini break quickly snowballed into a lengthy court case after topless pictures of Kate were taken.
Kenya
The country will forever be associated with the couple after they got engaged there in 2010, although they have actually visited twice. The Summer they finished university was the first time William took his then-girlfriend to experience the country which had captured his heart as a teenager. They stayed with William's friends the Craigs before travelling on to the Mukogodo Hills to stay in the Il N'gwesi Lodge, enjoying safari drives and al fresco dinners during their visit. When they returned in 2010, they again stayed with the Craigs before William whisked Kate to the Rutundu Log Cabin on the slopes of Mount Kenya. There, they went fishing for rainbow trout, cooked for themselves, and enjoyed log fires and evenings lit by hurricane lanterns.