Who Will Emma Roberts Play on American Horror Story Cult?
Who Will Emma Roberts Play on American Horror Story? Our Predictions
This week, the American Horror Story: Cult cast got a little bit sharper. Creator Ryan Murphy announced the addition of Emma Roberts in a menacing new snap on Instagram. Suffice it to say, Roberts is no stranger to the Ryan Murphy universe. Not only has she appeared in two AHS seasons (Coven and Freak Show), but she also starred in Murphy's hyperbolic horror comedy, Scream Queens. With so many different characters in her past, we can't help but wonder who Roberts will play in Cult. Considering everything we've seen so far, there are only three options. Let's go over them.
1. She's Reprising Her Role as Chanel Oberlin
Earlier this year, Scream Queens fans were devastated to find that the Fox show was among the tragic TV cancellations for the season. While the show garnered praise for its tongue-in-cheek dialogue and fantastic fashion, our time with the Chanels has come to an end. Or has it?
Interestingly, creator Ryan Murphy shared his snap on Instagram with the following caption: "Look who showed up on the set of Cult looking glamorous and ready for action." Everyone knows Chanel Oberlin is the epitome of glamour, and this look could totally be a Chanel outfit. Plus, the butcher knife Roberts is holding in the snap comes straight from Scream Queens. Chanel wielded it in one the first teasers for the show. Even the white dress under her trench could be a nod to her nurse job in season two. The one main difference is that Roberts is brunette in the picture. But hey, who's to say Chanel doesn't opt for a change of pace after all that near-death nonsense?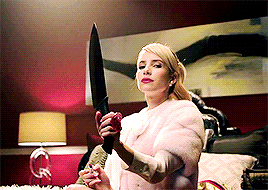 Image Source: Fox
Listen, I get that it's a stretch. But part of the fun of AHS is seeing the way it connects to other seasons. And for the record, plenty of characters have crossed over between seasons. It would be cool to see the return of a horror character from an entirely different Ryan Murphy show.
2. She's Reprising One of Her Previous AHS Roles
If Roberts isn't bringing Scream Queens into Cult, maybe she's reviving one of her previous characters. That leaves us with Madison Montgomery, the b*tchy witch she plays in Coven, and Maggie Esmerelda, her deceptive medium from Freak Show. Again, both the characters are blond. Madison technically dies at the end of Coven; she gets strangled to death by Kyle. But, well, seeing as she comes back from the dead once in Coven, it's possible she could rise again.
As for Maggie Esmerelda . . . well, Chester (Neil Patrick Harris) completely saws her in half near the end of Freak Show, and we see all her intestines spill out disgustingly on stage. I think it's safe to say she never really recovered from that one. So, we might see the return of Madison, but again, I wouldn't hold my breath.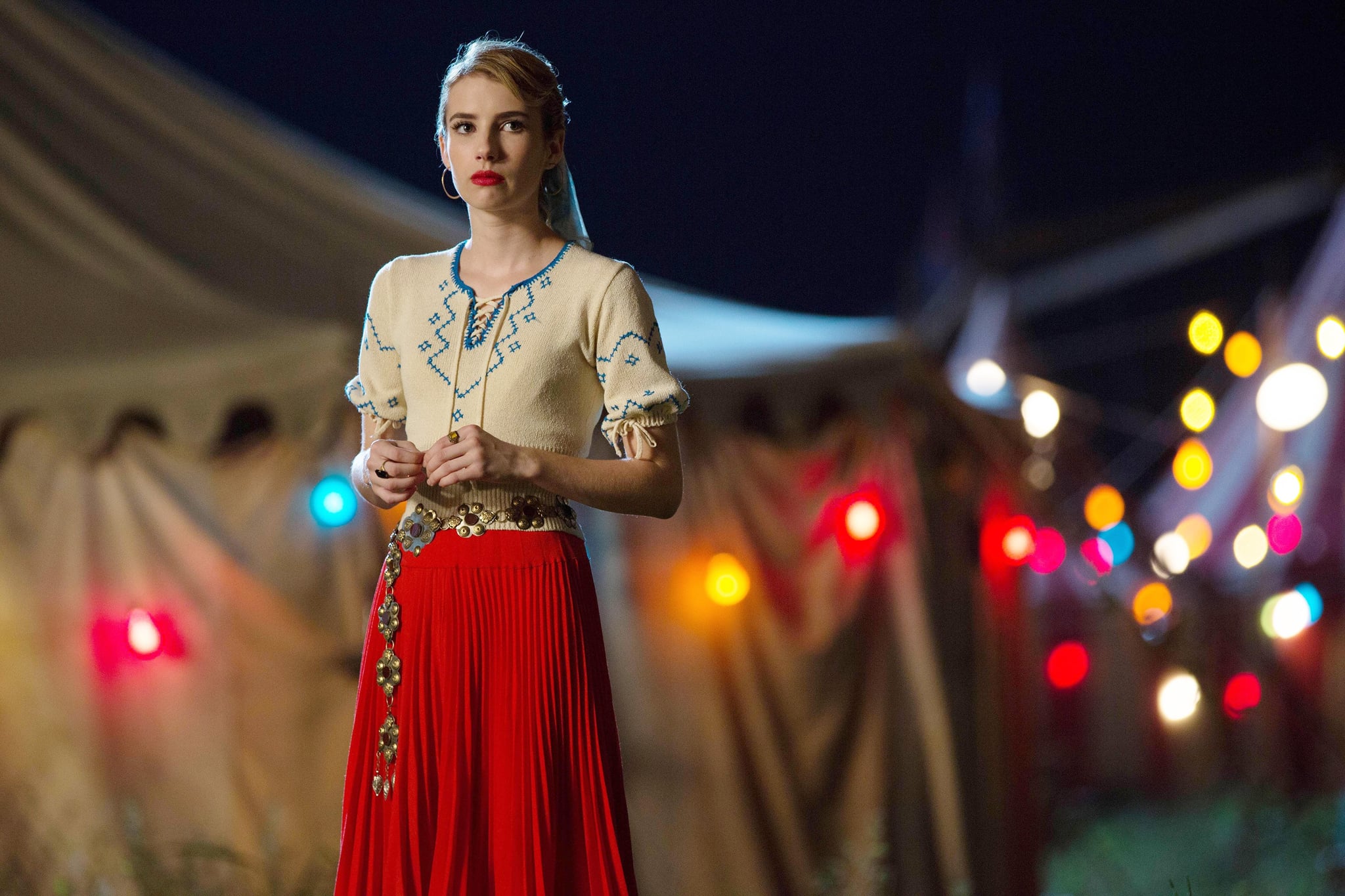 Image Source: Everett Collection
3. She's Playing an Entirely New Character
With the slim chance that Roberts is playing Chanel, and the even slimmer chance that she's returning as Coven's Madison Montgomery, the most logical conclusion is that she's playing a new character. With such a chic outfit and glaring weapon, you might guess that she's somehow involved in the "political" aspect that Ryan Murphy has repeatedly teased for season seven. Maybe Roberts is the daughter of a corrupt politician in this impending mess. Maybe she's, dare we say, some sort of Ivanka Trump character?
All we know for sure is that we're ready to join the Cult on Sept. 5.