Who Is Marsali on Outlander?
This New Outlander Character Has a Big Future in the Books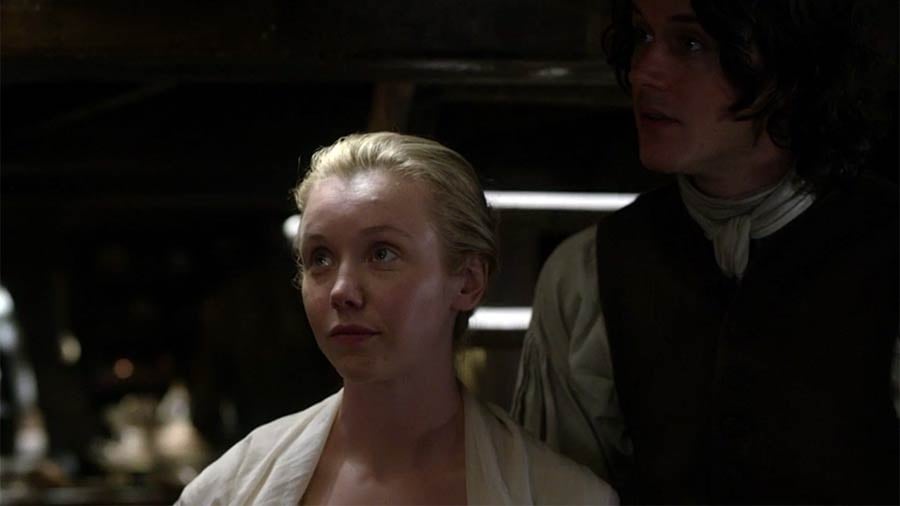 Last week, Outlander introduced a character who may have seemed like a passing annoyance at the time: Laoghaire's daughter Marsali. She's a teenager who calls Jamie "daddy" because it turns out Laoghaire married Jamie in Claire's absence.
But on the latest episode, "The Doldrums," Marsali proves to be more than a fleeting figure as she stows away aboard the Artemis with Fergus . . . her new husband! Yes, it seems Laoghaire's daughter and Jamie's de facto son are in love and have been "handfast," a Scottish marriage tradition (though, legally, Scottish law requires them to be wed in front of a member of the clergy). But you can bet that the second Fergus and Marsali have a chance, they're going to make things official (because Jamie refuses to let them share a bed until they're legally married).
On the Outlander set last year, actress Lauren Lyle told me what it was like to join the cast that had been working together for several years already — spoiler alert: they're just as nice as you hope they are.
"A few of us are newbies [this season], but it doesn't feel at all as though you're the odd one out. Everyone's super welcoming," said Lyle, who joined John Bell and Cesar Domboy as new recurring cast members in season three. "Everyone's so chill and laid-back and everyone's there to have fun. Everyone's like that. I was expecting it to be very regimented, but it's not. It really is like a laugh the whole time."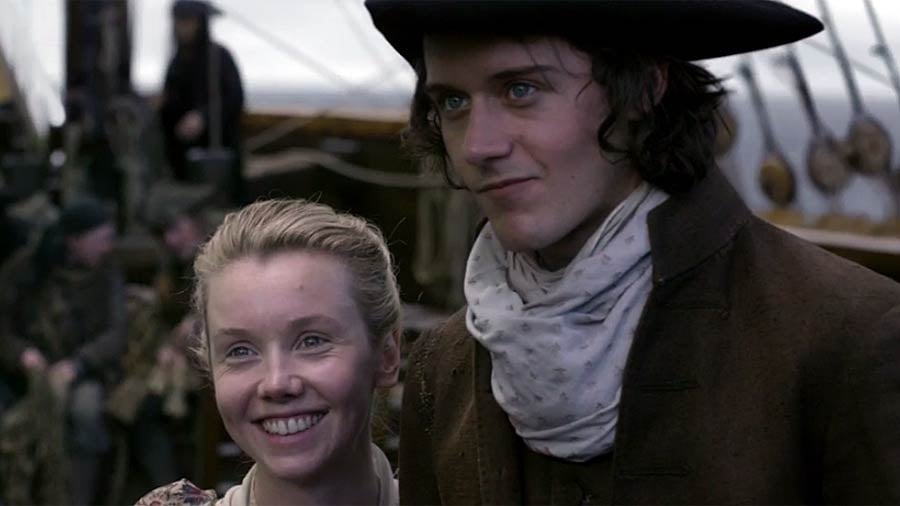 Lyle also said that she and her new husband get along very well off screen too.
"[Cesar] is great. We met for the first time at one of the read-throughs and he came over and he went, 'Hello, wife,'" recounted Lyle with a laugh. "We'd never met prior to that and it could have been dangerous because we're going to spend a lot of time together, but luckily he's really nice and we get on very well, so it's been great. We've seen each other quite a lot since [filming started]."
Speaking of seeing someone a lot, all the Laoghaire haters better buckle up, because they're going to be seeing a lot of her daughter — and like her mother, Marsali is not one to be trifled with.
"You'll see a lot of me," said Lyle, adding, "[Marsali] doesn't care what anyone thinks and she'll go after what she wants without anyone else questioning it, and she'll do what she wants to get it. She absolutely does not conform to what you would expect of a 1700s girl, which I think is amazing. She is absolute fun. She's there in her own right; she's not there to serve anyone else. She lives her life the way she'd like to live it."
Warning: light spoilers from the books ahead.
Lyle also teased that she can't actually say much about her character, because it would "give everything away" — and she's not kidding. Marsali is now a central character in the Outlander universe.
As Voyager, the book upon which season three is based, moves forward, Marsali will officially wed Fergus and end up becoming quite close with Claire. In what will be season four of the show, Marsali and Fergus settle part of Fraser's Ridge, Jamie's plot of land in North Carolina, and end up having four children (and Marsali is pregnant with her fifth as of the latest book).
So as long as Outlander is on Starz, expect to be seeing a lot of Ms. Lyle.