Who Plays General Tarkin in Star Wars Rogue One?
How Did Star Wars Re-Create Peter Cushing For Rogue One, 20 Years After His Death?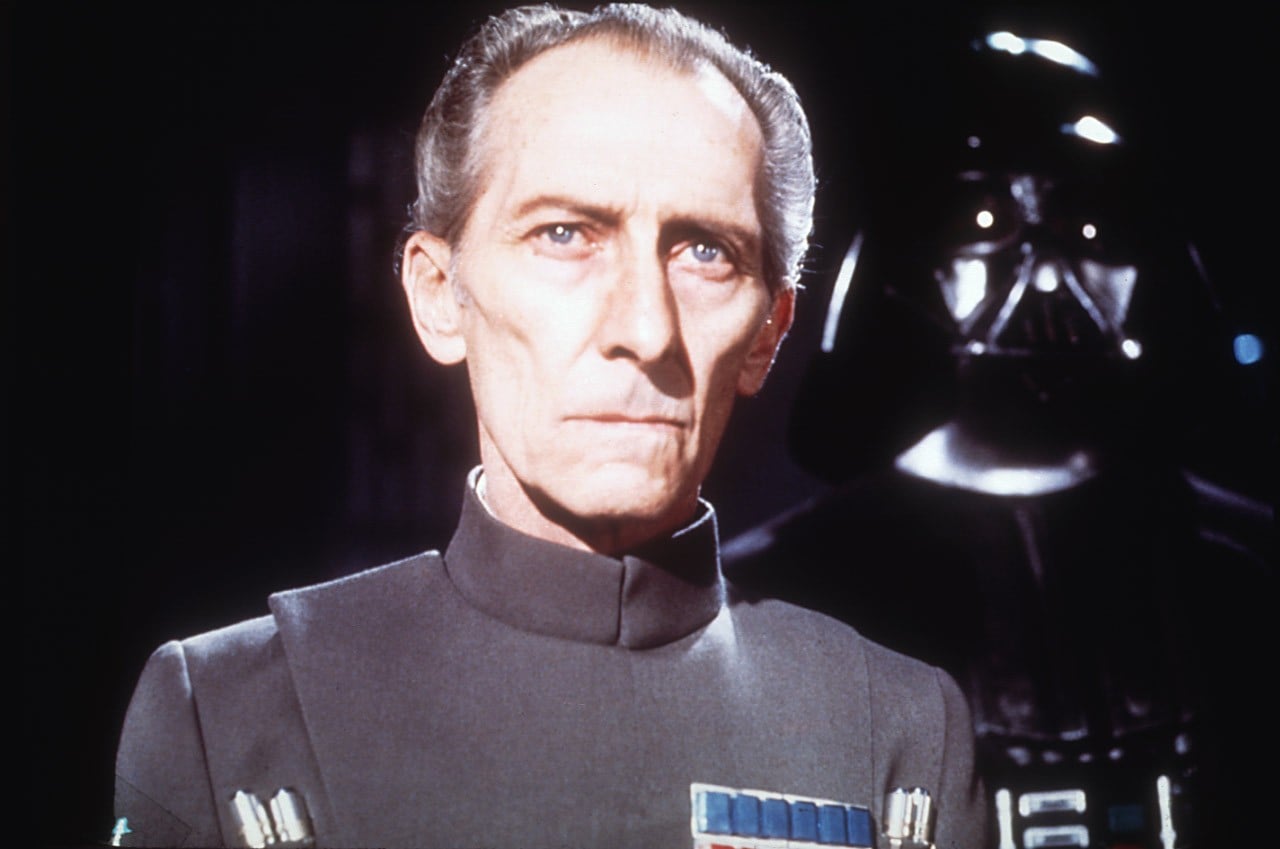 Whether or not you've seen Rogue One, chances are you've heard the murmurs about one particularly crucial character: Grand Moff Tarkin. The ominous figure first appeared in Star Wars: Episode IV — A New Hope back in 1977. Portrayed by legendary British actor Peter Cushing, Tarkin is a ruthless military presence in the Galactic Empire and is inextricably linked to the Imperial superweapon, the Death Star. When you consider how Rogue One is about a plan to steal the plans for the Death Star and that it ties directly into Episode IV, it makes sense that Tarkin would need to appear in this latest film. There's just one problem: Cushing passed away in 1994.
How did Star Wars manage to resurrect the actor for this role? In a recent interview with RadioTimes, director Gareth Edwards explained how they brought the character back to life. In summary, they cast a new actor (Guy Henry) to stand in and create Tarkin's physical presence in all of his scenes. The rest, however, was done entirely with CGI. "It was a lot of blood, sweat and tears from [special effects and animation studio] Industrial Light and Magic," Edwards explained. "[Henry] was gonna be totally replaced, and then had to keep it all secret. So, um, that was a big ask." In the final cut of the film, Cushing does indeed appear as Tarkin. The graphics are monumental, to be sure, but in the end, you can still clearly tell that the character has been entirely rendered with digital effects.
In the wake of the film's release, it seems the response to a digitally created Grand Moff Tarkin has been pretty mixed, so we're posing the question to you. Did you think the character's incorporation was seamless and masterfully done? Or was his computer-generated presence uncanny, out of place, and ultimately distracting? Cast your vote below.
Were you satisfied with how Rogue One re-created Grand Moff Tarkin?
Yes, he looks incredible!
No, he looks creepy and out of place.