Who Was Rami Malek's Date at the 2016 Emmys?
Who Was Rami Malek's Date at the Emmys? Don't Panic, Your Internet Boyfriend Is Still Single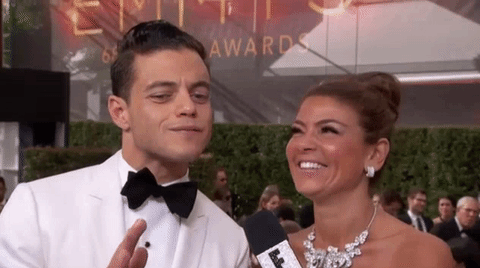 When Rami Malek rolled up to the Emmy Awards on Sunday, the world collectively held its breath for two reasons: 1.) He looked so damn good in his dapper white Dior suit, and 2.) He had a stunning date on his arm. A new girlfriend? A Mr. Robot superfan? Nope, just his cousin. "You're with your family — it's the best way to go through an experience like this," he told E!'s Giuliana Rancic on the red carpet while his cousin, whom he didn't introduce by name, stood by his side. The woman was wearing a gorgeous Marchesa gown and couldn't stop gushing over Rami as he continued the interview. "I am so proud of him," she said about his first Emmy nomination, after fangirling a little bit over meeting Giuliana. Later on, Rami took home the trophy for best actor in a drama series, and his cousin could be seen in the audience adorably snapping photos of him on her phone as he walked on stage in a way that would make Amy Poehler's character in Mean Girls proud. The bottom line? Rest easy, because your internet boyfriend is still single.