Who Is Ronan Farrow?
Why Everyone's Still Talking About Ronan Farrow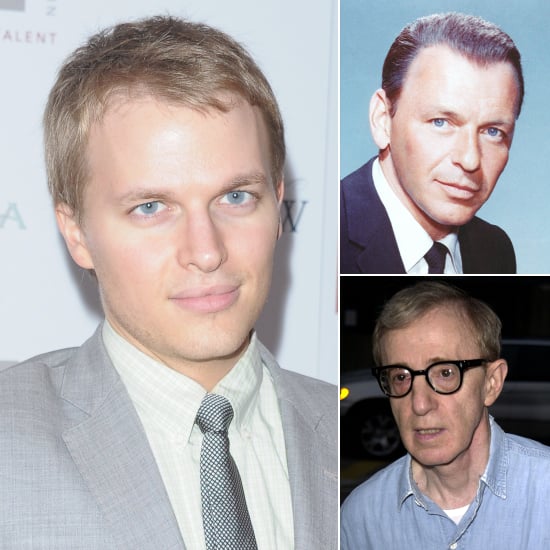 Mia Farrow's 25-year-old son, Ronan, has been making headlines lately, and today it was confirmed that he'll host a weekday show on MSNBC. The show is expected to launch in mid-January, and his TV news comes just a day after Penguin announced the acquisition of his upcoming book, Pandora's Box: How American Military Aid Creates America's Enemies, which is scheduled for a 2015 release. Earlier this month, Ronan found himself at the center of pop-culture buzz when Mia revealed that Frank Sinatra could "possibly" be Ronan's father — not Woody Allen, Mia's longtime partner who was previously believed to be his dad. Mia explained that she and her ex-husband Frank "never really split up," even while she was with Woody for over a decade. The paternity debate was further fueled by comments about Ronan from Frank's daughter Nancy, who said, "He's a big part of us, and we are blessed to have him in our lives."
Ronan, an attorney based in NYC, has taken it all in stride, joking about the buzz on Twitter.
Listen, we're all *possibly* Frank Sinatra's son.

— Ronan Farrow (@RonanFarrow) October 2, 2013
Back in 2012, he also tweeted about his interesting family circumstances on Father's Day, taking a swipe at Woody for getting together with Ronan's adopted sister Soon-Yi Previn.
Happy father's day -- or as they call it in my family, happy brother-in-law's day.

— Ronan Farrow (@RonanFarrow) June 17, 2012
This isn't the first time Ronan's found himself in the media spotlight, as he's made a name for himself as a journalist, a human rights activist, and a child prodigy. Keep reading to learn more about Ronan and his background:
The Sinatra Connection
Ronan's mom, Mia Farrow, was married to crooner Frank Sinatra from 1966 to 1968, and the pair continued their relationship even when she got together with Woody. Ever since Frank's death, Mia's said that she remains close with his family, telling Vanity Fair that she and Ronan went to the singer's funeral together, adding: "We are family and will always be."
Ronan's Family Ties
Ronan is one of Mia's four biological children. She had three children with composer André Previn after they got married in 1970, and the couple also adopted three kids together. In 1980, Mia and Woody started seeing each other, and they adopted two kids before Mia gave birth to Ronan — born "Satchel" — in 1987. She and Woody eventually broke up after she found out that he had a relationship with her adopted daughter Soon-Yi, and she also filed charges against Woody for allegedly molesting their adopted daughter Dylan, although the charges were eventually dismissed. He and Soon-Yi got married in 1997, and between 1992 and 1995, Mia adopted six more kids. Over the years, two of her daughters have passed away — Tam at age 19 in 2000, and Lark at age 35 in 2008.
Talking to Vanity Fair about his siblings, Ronan said, "I am so proud of my family . . . I grew up across the table from [brother] Moses, who has cerebral palsy, and next to my sister Quincy, born of a drug-addicted inner-city mother, and Minh, who is blind. I could never have understood what it means to grow up blind or with cerebral palsy. I saw problems and needs, so the next thing you think is: OK, what are you going to do about it?"
Kid Genius, Political Leader
Ronan has the brains to go with those baby blues. After graduating from Bard College at age 15 with double majors in philosophy and biology, he attended Yale Law School, studied at Oxford University, and became a Rhodes Scholar. Since then, he's rubbed elbows with the political elite, having served in the Obama administration and founded the State Department's Office of Global Youth Issues while Hillary Clinton was secretary of state. Also on his impressive résumé? Ronan was a UNICEF spokesperson for several years, he's written for publications like Newsday and The Wall Street Journal, and he was profiled by Forbes in its 2011 "30 Under 30" feature:
While he was working alongside Hillary as the director of the office of global youth issues, Ronan was also asked to deliver the commencement speech at California's Dominican University. He earned an honorary doctorate from the school and talked about the responsibilities of young people. Watch his address below:
Must-See Tweets
Smart, handsome, and funny? It's true. One glance at Ronan's Twitter account, and it's clear that his knowledge isn't just limited to politics. He's also up to date on all things celebrity, commenting on everything from Miley Cyrus's "Wrecking Ball" video to Beyoncé's haircut.
Does Miley Cyrus just do demolition jobs or is she also available for insulation and drywalling?

— Ronan Farrow (@RonanFarrow) September 10, 2013
I've reviewed all the evidence and can confirm that I am, in fact, ready for this jelly.

— Ronan Farrow (@RonanFarrow) September 8, 2013
I, like many Americans, will always view my life in two parts: life before Beyonce got a haircut, and life after Beyonce got a haircut.

— Ronan Farrow (@RonanFarrow) August 8, 2013
I just want to be supported and loved. By Oprah.

— Ronan Farrow (@RonanFarrow) August 19, 2013
Somewhere, at this moment, Gwyneth Paltrow is eating flax oil.

— Ronan Farrow (@RonanFarrow) July 3, 2013