Who Is Rosamund Pike, Cast in Gone Girl
Rosamund Pike Has Been Cast in Gone Girl: 5 Things You Should Know About Her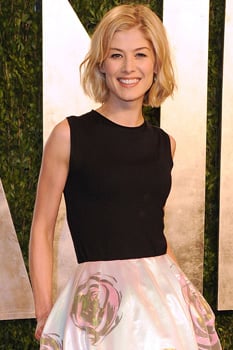 Spread the word: Rosamund Pike will play Amy Dunne in Gone Girl! We've been speculating as to who would nab the lead roles in the adaptation of Gillian Flynn's bestselling novel since rumors began to swirl that there might be a movie, and we finally know who will play the leads. Recently we learned Ben Affleck is starring as Nick Dunne, and this week we got confirmation that Pike has been offered (and will likely accept) the role of Nick's missing wife, Amy.
It goes without saying that with David Fincher on board to direct and a rabid fan base hoping to see an accurate adaptation, this is a huge role. Names like Natalie Portman, Reese Witherspoon (who is producing), and Emily Blunt had all been brought up — we even had our own list of possibilities — so it's relatively surprising that Pike earned the role. If you're still scratching your head as to who the petite blonde is, here are some things to know about the new Mrs. Amy Dunne.
Affleck isn't her first A-list leading man — not by a long shot. Pike acted alongside Tom Cruise in last year's action flick Jack Reacher. She's also starred with Sam Worthington in Wrath of the Titans, played Owen Wilson's wife in 2011's The Big Year, and was Johnny Depp's wife in The Libertine (2004). Oh, and let's not forget her romance with Ryan Gosling in 2007's Fracture. Not too shabby, eh?
She's a Bond girl. Speaking of handsome men, Pike's very first movie role was opposite Pierce Brosnan in 2002's Die Another Day. Though most remember Halle Berry as Bond's love interest (that orange bikini!), Pike played Miranda Frost, the sleek assistant of Bond's enemy.
Find out more when you read more.
She's a native Brit. The actress was born in London, and her résumé is speckled with uniquely British parts. In fact, her first credit is a TV movie called A Rather English Marriage.
The girl isn't shy. Pike is a seasoned stage actress, and one of her roles required her to be completely naked on stage, save for a pair of high heels. That's some serious commitment, even for a play on London's West End.
She almost married one of her directors. Joe Wright cast Pike as Jane in 2005's Pride & Prejudice, and by 2007, they were engaged. Wright, who also directed Atonement and last year's Anna Karenina, called off the wedding in 2008.