Who Is the Zodiac Killer?
American Horror Story Made Up a Bunch of Stuff About the Zodiac Killer — Here's the Truth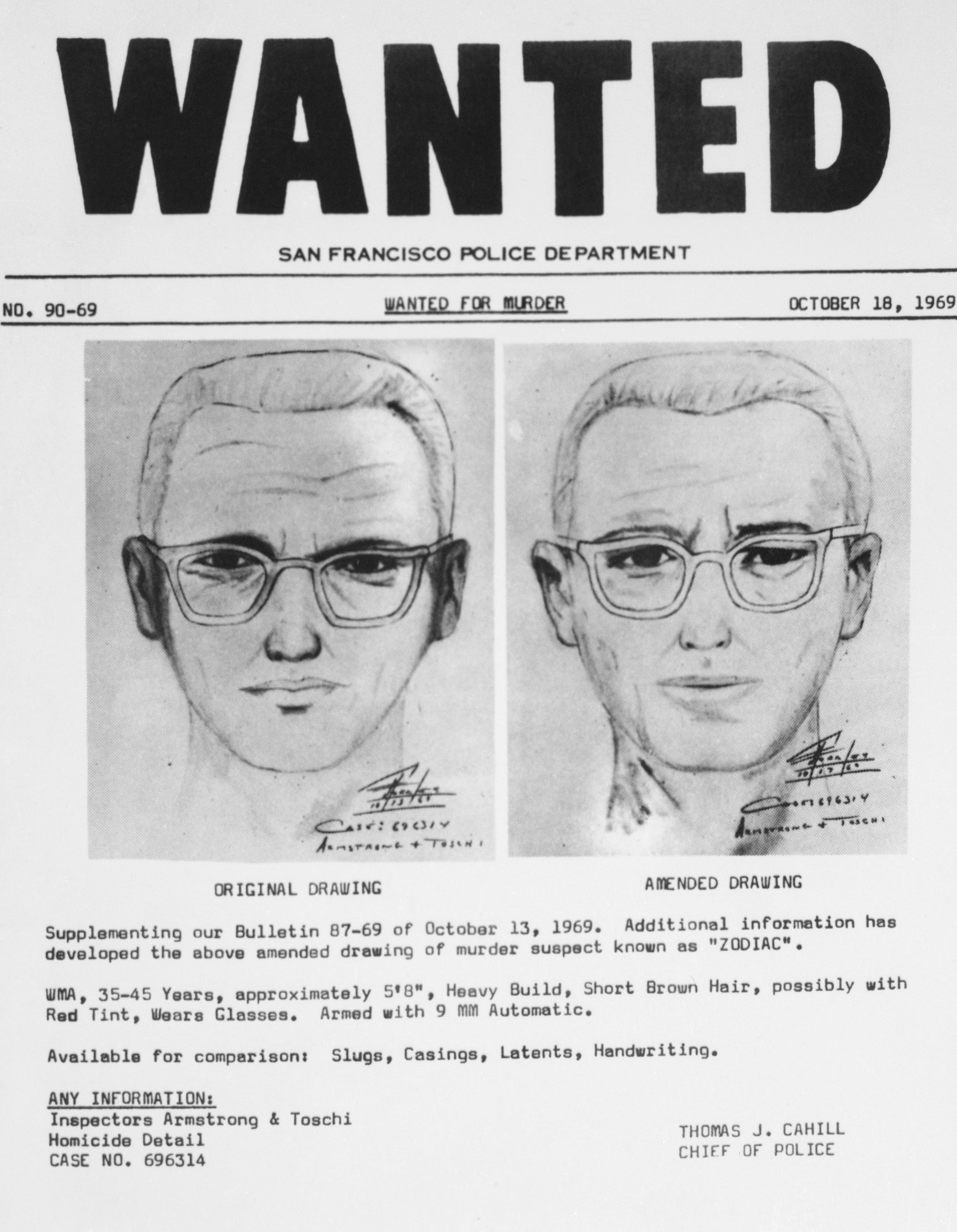 On the latest episode of American Horror Story: Cult, the show takes a break from its present-day storyline to flash back to two very different cults in the 1960s: the cult of Andy Warhol's bohemian, counterculture movement and the radical feminist cult of Valerie Solanas, whose purpose was to overthrow the government and eliminate men.
Over the course of the episode, Valerie's former lover Bebe Babbitt (welcome to Cult, Frances Conroy!) relays Valerie's tale to Beverly, Ivy, and Winter. It comes out that Valerie's SCUM cult (Society for Cutting Up Men) was actually the real identity of the Zodiac Killer.
Wait, what?
Yeah, that's exactly what a lot of viewers were saying on social media. AHS: Cult's version of the story is that while Valerie is locked away in New York for shooting Andy Warhol, her cult members are in California killing couples at lovers lane spots, then painting a symbol that came to be known as the Zodiac Killer's signature at the crime scenes. When a man begins taking credit for the murders by writing ciphers to local San Francisco newspapers, Valerie goes ballistic (because a man is taking credit for what women are doing), and her cult ends up figuring out it's one of its two male members, so they brutally murder the would-be Zodiac Killer by stabbing him to death.
It's an interesting tale, but a number of facts from Solanas's life and the Zodiac Killer don't line up. By all accounts, Solanas lived a fairly quiet life once she went to jail for the shooting. After she was released, which wasn't until 1971 (AHS makes it seem like it was quite a bit sooner), Solanas was arrested again, this time for stalking Warhol, and was subsequently institutionalised. She continued to defend her SCUM manifesto throughout the 1970s but basically wafted into obscurity until her death from pneumonia in 1988.
Zodiac Killer victims Betty Lou Jensen, David Faraday, and Darlene Ferrin.
Meanwhile, the Zodiac Killer operated in Northern California in the late '60s and early '70s, generally targeting couples when they were at makeout spots. Law enforcement agrees that three couples were Zodiac Killer deaths (though one man from each of two of the couples survived his injuries). A fourth couple that was killed a few years before the attacks in 1968 and 1969 is also thought to possibly be the work of the Zodiac Killer. The sketch of the killer that is often seen in the media about the Zodiac is from Cecelia Shepard's account of her attacker; Shepard lived for two days after the attack before succumbing to her injuries.
There were also a few solo victims attributed to the Zodiac Killer — cab driver Paul Stine, who is generally considered to be a Zodiac Killer death; Cheri Jo Bates, who might be the work of the Zodiac Killer; and a missing woman named Donna Lass, whose body was never found.
On the show, Bebe makes it sound as though Valerie shooting Warhol was a "signal" for SCUM to start killing in California, but there is a six-month gap between the dates when Warhol was shot (June 3, 1968) and when the first couple firmly attributed to the Zodiac Killer was killed (Dec. 20, 1968). The show makes it seem as though those incidents happened in quick succession.
Finally, the Zodiac Killer was also known for his communications with the press, sending letters, postcards, and cryptograms to local newspapers from 1969 to 1974.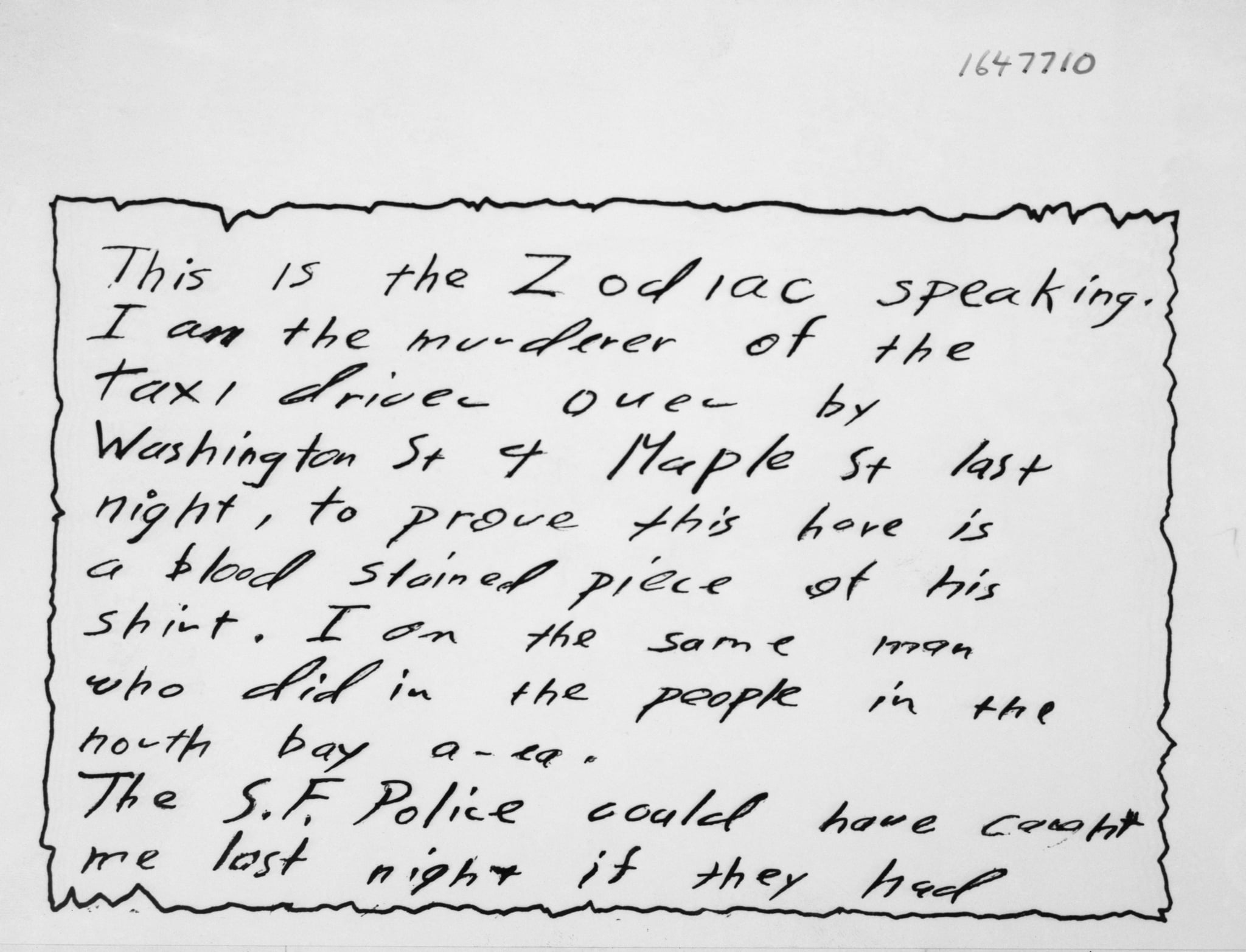 While the Zodiac Killer's identity remains a mystery to this day, there have never been any indications the murders were committed by a group of people, so the SCUM = Zodiac narrative seems a bit weird, even if some fans were totally here for it.
Absolutely LOVE how AHS is making a theory about the Zodiac Killer, this is amazing lol. #AHS #AHSCult

— inndia☼ (@_inndiaj) October 18, 2017
However, a lot of fans were more interested in the fact that the Zodiac Killer appeared on Devil's Night during American Horror Story's fifth season, Hotel, and since all the AHS seasons are connected and happen in the same universe, how is that possible?
But.....the Zodiac Killer was in AHS: Hotel #AHSCult pic.twitter.com/ZPpKjBLeTA

— Nick (@NickNbar11) October 18, 2017
By episode's end, it is revealed that Bebe is actually working with Kai. To what end, we don't yet know, but the fact that they're in cahoots makes us think that Bebe isn't actually who she says she is at all. What seems more likely is that Kai and Bebe concocted this whole scheme to sow discord within the cult. Again, we don't know why, unless that's the entire purpose right there, with no underlying reason for the discord. Either way, it seems highly unlikely that anything Bebe said is true. It's probably all a ruse to get the women of the cult to rebel against the men.