Win Flights to NYC, LA and Las Vegas in Our Get Him to the Greek Competition!
Giveaway: Get Him to the Greek and Get Yourself to LA!
To celebrate the release of Get Him to the Greek in UK cinemas from June 23, we're giving you the chance to win the holiday of a lifetime to New York, Las Vegas and LA! In true rock star fashion like Russell Brand, you'll fly coast to coast across America. You'll spend two nights in each city, with a gig in each, before ending up at The Greek Theatre in LA.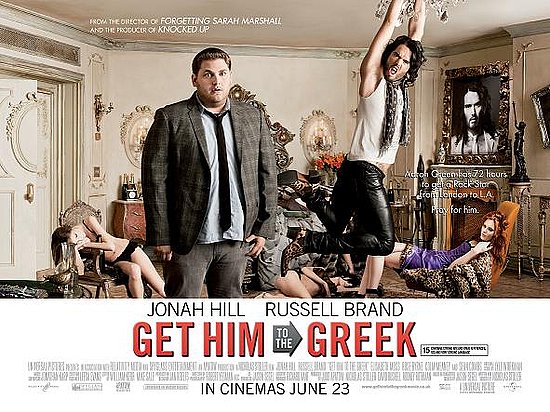 This amazing prize includes flights to the US for you and a friend. Starting out in New York you'll spend two days immersed in city life. Then you'll fly to Las Vegas where you'll spend 72 hours in casino city, and that's where your $250 spending money will come in handy. Finally you'll be whisked off to LA, where you'll attend a concert at The Greek Theatre.
To find out how to enter and to collect the clue, just read more.
How to enter:
1. Sign up for your suitcase at the official site
2. Fill your suitcase with the correct rock star items. Starting from 14 June until 18 June Russell Brand will be posting clues from his Facebook fan page. Simply follow the clues, find the item and add it to your suitcase.
3. Check In — submit your entry once your suitcase is filled, and you could be in with a chance of winning!
4. Terms & Conditions apply — read them at the official site
So if you're searching for suitcase item number two, then you've come to the right place!
Here is your rock star jewellery...
A Universal Picture © 2010 Universal Studios. All Rights Reserved.