Win Prizes For Your Comments On PopSugarUK! 2008-08-29 10:30:47
Speak Your Mind and Win Sugar Swag!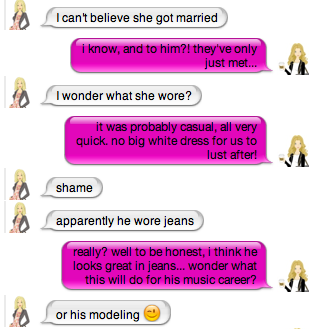 I love, love, LOVE hearing your opinions, and I know there's a whole load of you out there reading the site who want to get your thoughts out to all your fellow readers – probably with far more lucid opinions than those displayed in my convo with FabUK on the right there – so here's even more of an incentive to speak your mind!
Each month I'll award a sweet piece of Sugar swag to the user who has commented on PopSugarUK the most! It doesn't matter where you're from, all you have to do is make sure you're signed up to TeamSugar and type out your thoughts about the people and subjects I post about! Simple, huh?
Not signed up to TeamSugar yet? It's really quick and easy to register, and it will give you the ability to comment on all the posts across the network, enter all our UK competitions (if you're UK-based!) and you'll become a part of our friendly and fun community here! So what are you waiting for? Register now!
I'll announce the first Top Talker at the end of August... so get commenting!