Winner Of Our Caption It Competition!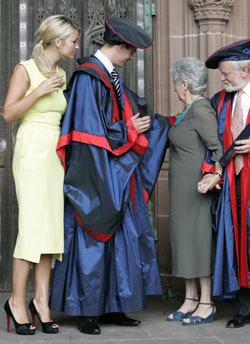 Last week I asked you to come up with a witty caption to go with this picture of Steve Gerrard receiving an honorary fellowship from Liverpool John Moores University.
I got some awesome entries so it was tricky to decide who to crown the winner, but I'm pleased to announce the winning caption is:
"Mam, what am I wearing, I can't believe you didn't wash me kit like!"
Congratulations to fudgeit who wins a sweet piece of Sugar Swag!
A big thank you to gelita, hills, supersocks, Kallman and tototee for getting involved and making us giggle.
Stay tuned for more Caption It competitions soon ...