The X Factor Confirms Louis Walsh Will Not Appear on This Weekend's Shows As He'll Be Attending Stephen Gately's Funeral
X Factor States Louis Will Miss Shows for Stephen's Funeral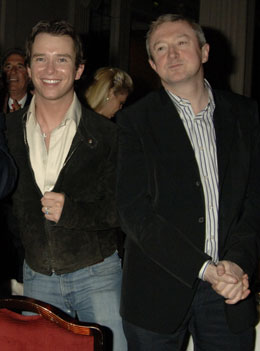 As expected, Louis Walsh will not appear on The X Factor this weekend, as he'll be attending the funeral of Boyzone's Stephen Gately which takes place on Saturday. The show released this statement:
"Due to recent tragic events, Louis Walsh will not be appearing on either the Saturday or Sunday live The X Factor shows this weekend as he is attending Stephen Gately's funeral. Louis has been in close contact with his acts throughout the week, although his opinions will not be represented in the show this weekend."
Louis has been paying tribute to Stephen this week and has spoken about the upcoming funeral, saying:
"In Ireland we've a tradition of funerals where we can be sad and happy. We'll give him the best send-off ever. The boys [will] go to Majorca and bring him to Dublin. They'll stay with him all night. His mother said he would not want to be alone. I think the boys are going to be in charge of everything. They're his best friends."
Our thoughts continue to be with Stephen's family, friends and fans at this time.