The X Factor Press Conference With SImon Cowell, Cheryl Cole. Robbie Williams, George Michael on X Factor Final!
PopSugarUK Meets The X Factor Judges and Finalists: Favourite Moments and Final Duets Confirmed!
I've just got back from The X Factor press conference in London, where judges Simon Cowell, Louis Walsh, Cheryl Cole, and Dannii Minogue answered questions along with the finalists Joe McElderry, Stacey Solomon and Olly Murs! Cheryl looked gorgeous with her hair still free of extensions and a black knitted dress on, and she grinned throughout, Dannii looked fab in a bright red dress, Stacey kept warm in a lovely big grey cardi, while Simon was — surprise, surprise — in a black t-shirt.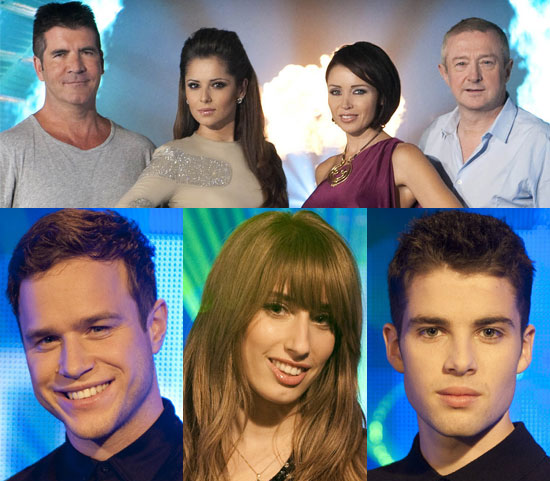 Simon confirmed that his act Olly will be performing a duet with Robbie Williams, Stacey will sing with Michael Buble and Joe will sing alongside George Michael this weekend! How fantastic is that lineup?!
Don't forget to play my addictive X Factor faceoff game! To read more from the press conference, including whether Olly will be wearing tight trousers at the weekend, and what their favourite moments from the series so far have been, just read more.
Olly also assured us with a cheeky grin that he will be wearing tight trousers for his performance. They all talked about their favourite moments of the series so far — Stacey's was swimming with dolphins, Joe has enjoyed the performances, while Olly said his favourite moment was when Rachel Adedeji fell over when she found out she was through! Simon said his favourite moment was that Cheryl dress, while Cheryl cringed and said that was her worst moment... eek! Louis spoke for lots of people there when he said that John & Edward's "Ice Ice Baby" moment was his fave.
Simon mentioned the show's ratings rival Strictly Come Dancing, asking who had won, before he was told it hadn't actually finished yet.... oops! As for relationships, when a question about Stacey and Olly's possible relationship was asked, bosses quickly stepped in to move the questions back towards the final show on Sunday — spoilsports!
So what do you think of the duet choices? Let me know!