Are You Excited For Season 10 of American Idol?
Are You Excited For the Return of American Idol?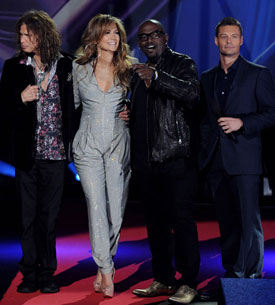 American Idol is back on ITV2 tonight with its season ten debut and a new hosting lineup. In the decade since AI first premiered, the competition has launched the likes of Kelly Clarkson and Carrie Underwood, and helped make Ryan Seacrest a media powerhouse in the US Still, the most recent winners haven't enjoyed the same superstardom as some of their predecessors, and last year, Ellen DeGeneres, Simon Cowell, and Kara DioGuardi all left the show. Steven Tyler and Jennifer Lopez will now join Randy Jackson on the judging panel, and have promised to take things up a notch, so tell us — will you watch tonight's episode, or are you over it?