Young Brad Pitt Intervews
Interview With the Birthday Boy: Crush on a Young Brad Pitt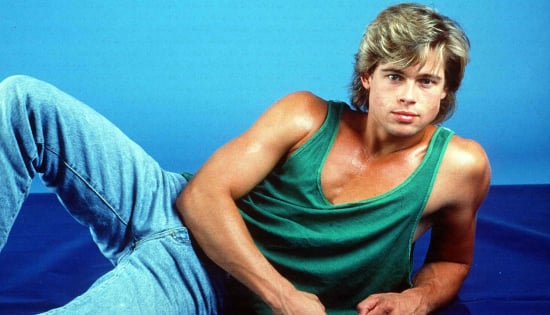 Brad Pitt's been considered one of Hollywood's hottest hunks for more than 20 years, and if these early interviews are any indication, he charmed fans right from the start. To celebrate the actor's upcoming 50th birthday, we're looking back on Brad's interviews from the '90s, going all the way back to his hoop earring, backward-hat days at the start of the decade. Beyond seeing his evolving fashion sense — and hairstyles — it's compelling to watch how his attitude and answers evolve over time. To hear how Brad felt about fame, his looks, and his relationships with Gwyneth Paltrow and Jennifer Aniston back in the day, check out the vintage interviews below.
Rocking a hoop earring and a backward hat, 26-year-old Brad smirked while talking about the lack of substance in TV roles. "Unfortunately, a lot of television to me is a fast-food fashion show," he said. And asked whether he was shy or just private, Brad said, "Everything."
Back in the '90s, Brad sat down for a Siskel & Ebert interview and was funny and humble about his early roles. He cited sincerity as his greatest strength, saying, "That's coming from my family, I think. Something they pounded into me as a kid." As soft-spoken and genuine as ever, he talked about his family, his values, and being "tender" in sex scenes. The handsome actor became quiet when his "all-American good looks" were brought up, saying, "I get very uncomfortable with the whole 'looks' conversation, because it's true that looks do open doors, you know? They don't keep you in the room, but they open doors."
For more old-school Brad Pitt interviews, just keep reading.
While promoting the 1995 movie Se7en, Brad talked about wanting to get back into architecture "someday" and addressed the "debacle" of receiving People's sexiest man alive title that year, saying, "Listen, I just woke up one morning, and someone stuck that on my forehead."
Brad got giggly while talking about the Irish accent he used in the 1997 film The Devil's Own, shrugging off compliments about his work. He called Harrison Ford one of his favorite actors, then gushed over his engagement to Gwyneth.
Brad headed to Oprah Winfrey's show in 1998, where the talk-show host played an early tape from when his mom visited the show in 1996. He laughed off the old videos before answering audience questions, including how he and Jennifer met, wanting kids, and which rumors were most inaccurate.
And just for good measure, here's Brad's guest-starring role on Growing Pains in the late '80s. That hair!