Zac Efron Dressed as Ted Bundy Photo
The First Photo of Zac Efron Dressed as Ted Bundy Will Make You Feel Conflicted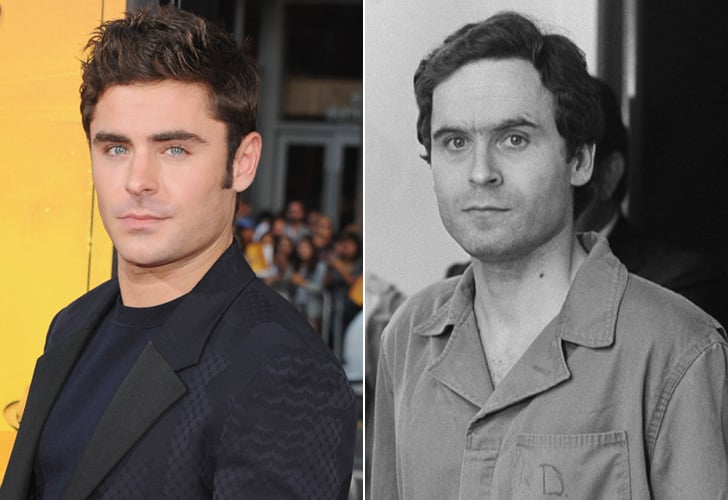 If you're like me, then thinking about Zac Efron generally fills you with the warm and fuzzies — those abs and that jawline, right? That's why it pains me to say that those halcyon days of thirsting for Efron are over now that the actor has shared the first photo of his transformation into serial killer Ted Bundy for the film Extremely Wicked, Shockingly Evil and Vile. Or should I say, the days of guiltlessly thirsting for him are over, since getting all hot and bothered by him in character as a murderer is . . . well . . . you know what? Let's just move on.
The news that Efron is starring in a movie about Bundy's life was announced in 2017, and surprisingly, it's not the first time a Disney star has taken on a role this dark. Just last year Teen Beach Movie's Ross Lynch starred in My Friend Dahmer, the chilling origin story of serial killer Jeffrey Dahmer. Like Lynch, it looks like Efron is fully committing to the role, which will see him portraying Bundy, who was connected to at least 36 horrific murders. The story will be told through the eyes of Bundy's longtime girlfriend, Elizabeth Kloepfer (Lily Collins), and judging from the picture Efron shared on Twitter, it's clear he's already channelling Bundy's trademark charisma:
Meet Ted. #BehindTheScenes 🎬 pic.twitter.com/42IREG2kX6

— Zac Efron (@ZacEfron) January 17, 2018
The black and white image doesn't reveal too much detail, other than that it's a re-creation of Bundy's 1975 mugshot. Regardless, it's safe to say playing one of America's most prolific serial killers will be a big departure for the actor, who most recently appeared in circus musical The Greatest Showman and Baywatch.
"Ted Bundy is going to be a challenge," he recently told BuzzFeed. "I think it's going to be different and it's going to be fun. I'm super stoked."
In addition to Efron and Collins, the Joe Berlinger-directed film also stars John Malkovich as Judge Edward Cowart, who handled Bundy's televised trial and sentenced him to the death penalty. Hopefully the cast will share a few more sneak peeks as production gets into gear.