24 Hours at the Cannes Film Festival | Editor Review
Sun, Sea, and Celeb Spotting: What It's Really Like to do 24 Hours at Cannes Film Festival
For two weeks every year, the city of Cannes in the South of France becomes a hotbed for A-list celebrities. The rich and famous descend upon the coastal location for the Cannes Film Festival to preview and celebrate an upcoming roster of films. And with it, comes a red carpet that will have you "oohing" and "aahing" at the sheer glitz and glamour of it all. While it looks to be the epitome of fame – designer gowns, VIP dinners, and late-night parties – what's it really like to spend 24 hours surrounded by the who's who of entertainment?
As a self-confessed celebrity obsessive, landing in Cannes was my Christmas come early. Aside from work events, the closest I've got to spotting a celebrity in their natural habitat is JLS's Aston Merrygold in my local kebab shop. So it's safe to say, my celebrity radar was on high alert. The city had been shrouded in rain before my arrival, but as I pulled up to Le Mondial hotel, the sun was glowing and my French was flowing (GCSE French, that is; I ordered a ham and cheese sandwich.)
My first impression? It's busy, but in a good way. The quaint seaside city was full of people. Tourists were a given, but there was an air of urgency. Influencers, photographers, PRs, agents, event planners walk with purpose along the streets in a bid to keep the festival running like clockwork. And the adrenalin rubs off, a buzz of excitement brewing. Then again, that could have been the low hum of helicopters permeating the hustle and bustle. Every few minutes, a helicopter can be seen flying the A-list stars in or out of the city more regularly than the London Underground.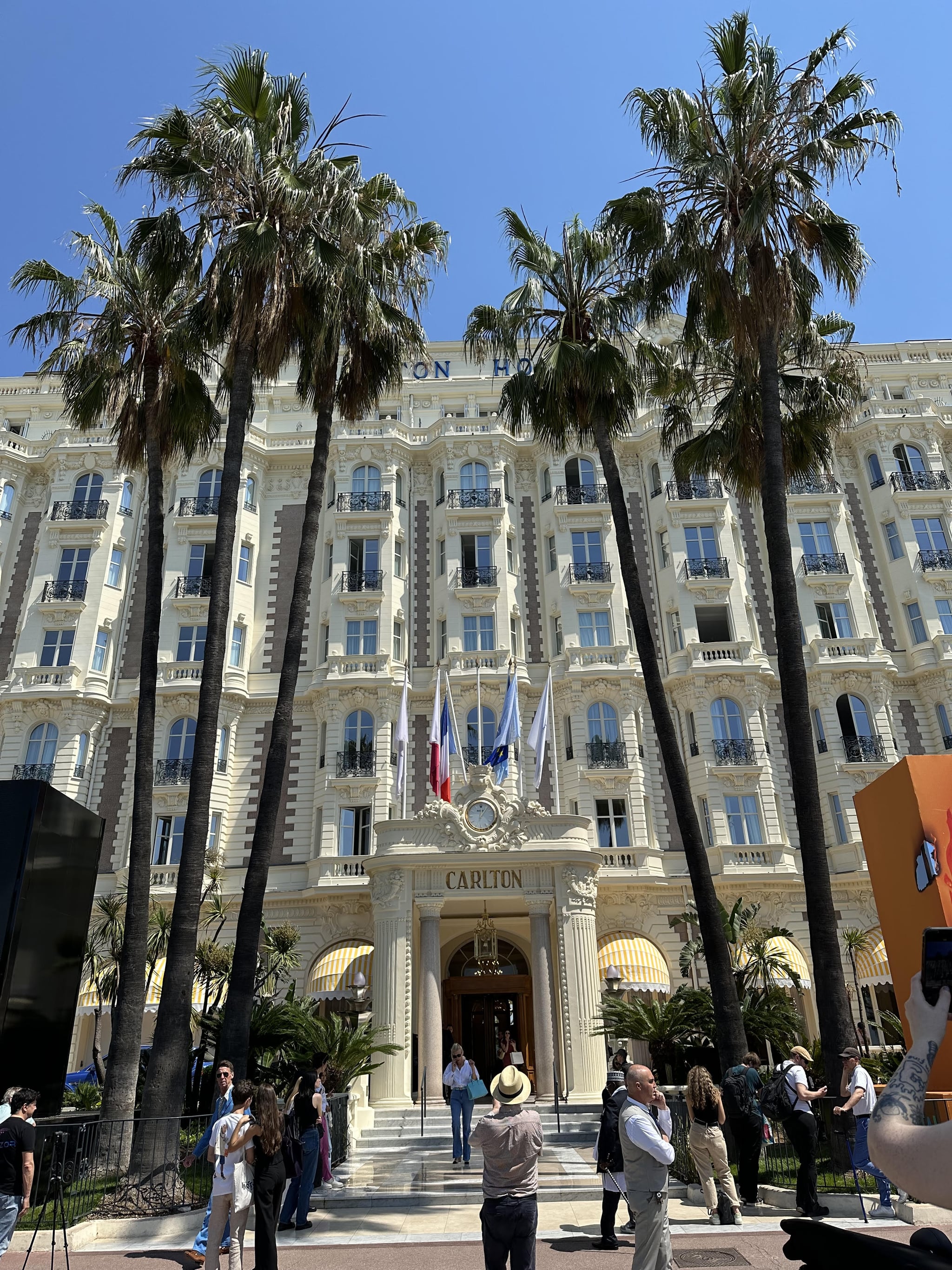 People watching is also one of my unofficial hobbies, and Cannes is the perfect place for taking it all in. A Smörgåsbord of people walk the streets or take to the beach. Locals in bikinis sit amongst influencers in gowns at all times of the day. Impatient that I hadn't yet glimpsed Leonardo DiCaprio, I saw a crowd congregated around one person. Could this be it? An encounter with The Weeknd? Was I about to become best friends with Jennifer Lawrence? Sadly not. With so many camera-ready visitors, photographers swarm around anyone with oversized sunnies and a confident walk. Be warned, not everyone is the lead in the latest Wes Anderson film.
Yet, I still managed to stumble across a great spot. Walking past a jetty, there stood actual Sydney Sweeney. The "Euphoria" star was stepping onto a boat to get to her yacht (sigh) following her Miu Miu lunch. Turning back to the coastline, she blew kisses and waved directly at me. Sort of.
The city undoubtedly caters for the world's elite. Food and drinks do not come cheap (expect to drop £30 for a burger) and the streets are lined with high-end fashion stores. Hermés, Dolce & Gabbana, and Celine are dotted between the luxurious hotels.
With an invite to the VIP Magnum beach party on my schedule, finding a Cannes-worthy outfit had been sending me into a low-key panic. How could I find a dress that wouldn't look wildly out of place alongside the likes of Maya Jama's bridalcore gown, Viola Davis's feathered cape, or Irina Shayk's leather co-ord? I'd been eyeing up a Mango off-the-shoulder number from its new capsule collection for a few days, but it wouldn't arrive in time in the UK. The fashion gods must have been looking down on me as, opposite my hotel, stood a Mango with solely red carpet-worthy attire. Of course, I was in the home of the red carpet. I got the goods, albeit in a size too small, but fashion is pain, right?
The parties in Cannes are notorious. Not only for attracting global stars, but for their raucous reputation. The beach is lined with marquees, in collaboration with various brands, each hosting events throughout the two weeks. There are presentations, lunches, dinners, and late-night DJs across the coastline, so you can expect random applause and cheers as you head for a stroll to find an Aperol Spritz.
As I rocked up to the Magnum party, dress slowly compressing my internal organs, it was clear I was very lucky to have a ticket. A long line of partygoers were queuing to gain access, which was already at capacity, as rumours spread that Burna Boy was performing later on in the evening. Taking my spot on the red carpet, a frenzy ensued. Celebrities stood in front of the paparazzi in attire that can only been described as jaw-dropping. Sure, I'm used to poring over red carpet photos, but seeing these intricate works of art in the flesh was another level. Glistening fabrics, heels that I wouldn't be able to walk more than 5 feet in, and skin so glowing it hurt my eyes; this was how the other half lived. Models Irina Shayk, Stella Maxwell, Cindy Bruna, and Josephine Skriver wowed, while Eva Longoria and Nicole Sherzinger glistened.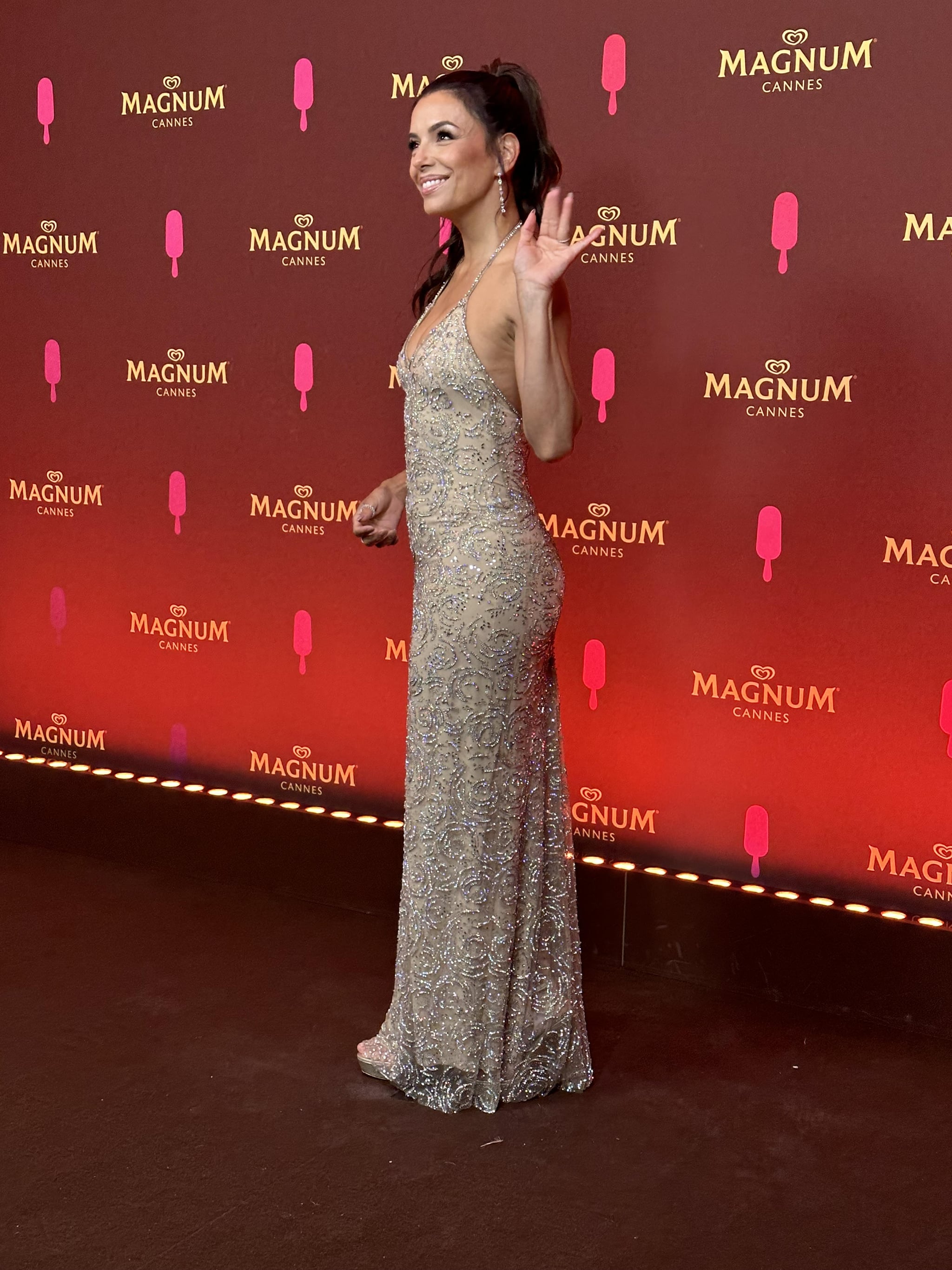 As the party ramped up, with banging music and dance performances, confetti poured from the ceiling and sparklers were paraded across the dancefloor. Instead of sitting in champagne bottles, these were trays full of the new Sunlover and Starchaser Magnum ice creams. Both are delicious; the former consisting of coconut ice cream, with a mango and passionfruit swirl, coated in white chocolate, the latter made of popcorn-flavoured and caramel ice cream, with caramel sauce, coated in milk chocolate. Contrary to popular belief, an ice cream was just what I needed mid sweaty dancefloor. I'll be starting a petition to hand out cold snacks in all clubs and bars from here on in.
As my time at the Cannes Film Festival came to a close, there's a few lasting takeaways I was left with: looking glamorous is a full-time job, and I would always recommend buying your actual clothes size. Celebrities just know how to pose for photos, and there should be classes taught on this. You Cannes live like an A-lister for 24 hours, but you'll relish slipping into joggers at the end of it.
Image Source: POPSUGAR Photography / Chloe Dunn